Can Termites Damage Gold and Other Expensive Items?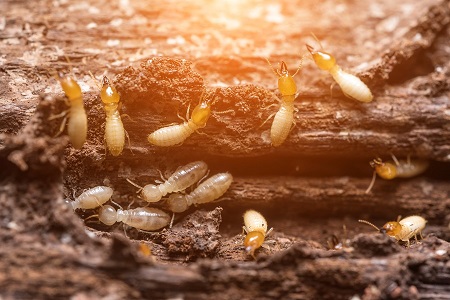 Most people would scoff after reading the title but remember that termites are persistent creatures. Not so sure now, right? But the straightforward answer to the question of whether termites can damage gold is still a solid no. So, relax if you have already started mapping out termite control measures for your gold jewellery.
Gold jewellery does not contain any plant fiber or plant-based cellulose in it and thus termites cannot eat it. While the answer to this question might seem obvious you might wonder what made people think about it in the first place.
Termites and Gold
While your gold jewellery might not be on their list of favourite foods, termites and gold have a history that you should know about. Termites are well-known to be silent home wreckers that can cause thousands of dollars worth damage if left unnoticed.
But a research study published in 2012 found that termite mounds can indicate the presence of gold deposits in that ground. During the research, the Australian scientists found traces of gold in termite excreta. Further study into the topic found that the termites burrow beneath the subterranean material. Termites eat soil to get to plant fiber but also ingest gold and other minerals in the soil during the process.
While some of these deposits are ingested, some are brought to the surface by termites. It was also found that the minerals ingested can form stone-like lumps in the digestive system of termites.
Thus, the presence of gold deposits in the termite mounds and termite excreta can indicate the presence of the valuable mineral in the vicinity. The study came as a surprise for most people but now some countries use this as a standard method for small scale gold mining.
It later came to light that some civilizations in Africa were using termite and ant mounds to find prospective gold deposits in their area for about hundreds of years. Other than gold, termites are also known to collect almost all minerals like copper, nickel and sometimes even diamonds.
Though there seems to be a solid history between termites and gold, you don't have to worry unless you have gold dust mixed in your garden soil.
Also Read: Tips to Save Your Books from Termites




What about Other Expensive Items?
Termites prefer to eat anything that contains cellulose or plant-based fiber. This removes gold and other expensive metals from the list but money is not so lucky.
Money is made from plant fiber and thus comes into the potential dinner list of termites. There have been instances when termites have caused great damage to banks. For example, in India, a person called Mr Dwarika Prasad lost his life's savings to termites. The man had been saving money along with some valuable items in a bank's safe deposit box. The bank was infested with termites and a sign informing this was posted on the window without reaching out to the customers individually.
Obviously, Mr Prasad did not see the notice and when he went to check out his deposit box after some time, he was shocked to find nothing but termite destroyed currency notes. While the bank can be held responsible if the safety box was broken into physically, termite damage does not have a provision for compensation from the bank. Mr Prasad has been fighting since 2008 to receive his money back but with no luck.
This can be a unique tale but it can happen to anyone. Termites can sneak in through even the smallest of spaces and thus it is necessary to make sure that your lockers are safe from it. Termite control and termite prevention measures for your lockers might be a step in the right direction since prevention is always better than cure.
Hi-Tech Termite Control
Termites can cause damage not only to your home but also to your money if not protected right. We at HiTech Termite Control use advanced technologies for our termite control services and there is a three-year full structure warranty for our primary and secondary termite treatment services. Contact us at (888) 322-8889 to know more.
Become a Member to post Articles
Back to Profile