Embrace Your Community: Top Reasons to Choose a Local Landscaping Service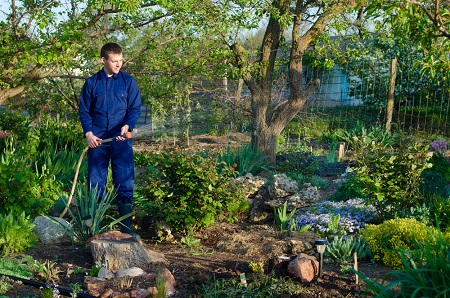 There are 2 levels of lawn maintenance. The first is to simply mow the grass, do some watering and rake some leaves. The rest is left to nature and the Weather Gods. The second way is to use the services of a professional landscaping company. This keeps you in control and ensures that you get the garden you want. With a local landscaping company that provides you with full-service garden maintenance, your garden will always look its best, will be a place to enjoy the outdoors, and will add value to your home as a whole. All this without you having to break into a sweat.
It is important to use a local landscaping service. Climates and soil vary greatly and a company with local knowledge and expertise will be able to provide you with the right kind of landscaping.
---
Also Read: How Climate Change Can Affect Your Garden?
---
What Professional Local Landscaping Means
Landscape maintenance involves many activities including mowing the grass, trimming and pruning the shrubs and foliage, checking for plant health and taking corrective action if needed, checking soil condition and moisture content and much more. Each of these activities requires specialized local knowledge to ensure that the garden is always at its best. With local landscaping services looking after your garden, experts will monitor everything and ensure that the highest standards are maintained.
You do not have to spend time looking after the garden (except when you want to!) so you and the family will have more time to enjoy the outdoors.
A beautiful well-maintained yard opens up many entertaining avenues. Having friends over for an afternoon barbeque or an evening dinner out in beautiful surroundings is always a great option.
Longer life for your plants and shrubs is assured with professional local landscapers. That means that you do not have to keep investing in new plants and trees and what you have will not just survive but will thrive under expert care. New plants will only be needed when you feel the need for a change, not because you have to replace what has died.
You will get the garden hardware you need. If you need a water irrigation system, which type is right? A professional will know if a drip irrigation system is the right choice or if something else will be better. Is outdoor lighting a good idea? Will flagstones work for your yard? What is right for where you live? A landscaping professional will have the answers you need.
You will be ready for the future. Landscaping styles and trends keep evolving. With local landscaping services caring for your garden, you will have access to all the new developments and innovations in landscaping as well as expert advice on what will be best for you.
A landscape is a personal statement that reflects the personality and style of the homeowner. Having a landscaping expert at your side means that you will have someone with knowledge and experience on whom you can bounce your ideas.
---
Also Read: Lawn Installation – Which Grass Is Right for You?
---
The property outside the walls of your house is also a part of your home and adds beauty and tranquility to it. Keeping it at its best is as important as cleaning and maintaining the indoors. Your yard and garden add value to the quality of your home life and deserve professional care and maintenance. Contact a leading professional local landscaping service and see the difference in the beauty and utility of your landscape.
Become a Member to post Articles
Back to Profile