Why Your Home Needs Daylighting Devices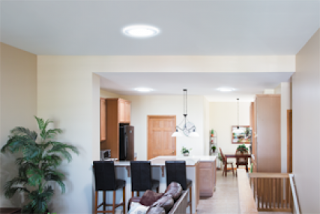 There are 2 things to keep in mind about daylighting devices. The first is that they have become an essential part of every home. The second is that while they are called by many names, including daylighting systems, tubular skylights, tubular daylighting devices (TDDs), solar tubes, etc., they are all the same thing. They all collect sunlight from the roof of a house and using special reflective tubing, carry it to the interior of the home to places where traditional skylights and windows do not provide adequate illumination. At the beginning of the 20th century, the lightbulb was the hottest thing to ever happen to indoor lighting. Today it is daylighting devices.
If your home has one or more installed, you know the many benefits they offer and maybe you could consider installing more. If you do not have a daylighting system and are not sure about what they are (like any relatively new technology, there are many misconceptions about these devices), here is a quick guide to why your home needs one.
Daylighting systems provide exceptional lighting. Do not let the small size of the roof-mounted light collector fool you. The amount of light that a daylighting device can give is more than what you would expect from a traditional light.
They can be used just about anywhere in the house, including in spaces with no access to natural light like closets and laundry rooms. The tubing can carry the light through walls and ceilings and around bends. Any loss of light that happens during transmission to the interior of the house is minuscule and not noticeable.
The distance from the roof-mounted collector to the diffuser that enables sunlight to illuminate a room has no significant effect on the amount of light available.
Elegant light fixtures are available that are designed to match all types of interior décor.
Read also: Factors to consider when choosing a daylighting system
Ventilation add-on kits are available so that lighting and ventilation can be accomplished without making the ceiling look cluttered.
Electric lighting add-on kits allow the same fixture to be used at night.
Installing daylighting devices is fast and clean. No structural reframing, painting, drywall work or tunneling is required. Installation can be done in a matter of a few hours.
Because daylighting devices are so compact, they can be installed to illuminate a space where other natural illumination options are not available.
Daylighting devices are cost-effective. Once installed, there are no running costs. In fact, because fewer electric lights need to be used during the day, electricity consumption is reduced and as a result the utility bills are significantly reduced.
Daylighting devices are green. The reduced electricity consumption means that the home's carbon footprint is reduced.
Studies prove that increased exposure to sunlight is good for physical and mental health. Increased sunlight via daylighting devices enhances physical and mental well-being, boosts energy and concentration levels and increases overall feelings of well-being.
To learn more about the benefits of daylighting devices, contact a dealer near you. Because quality and cutting-edge technology are such important factors, ensure that you approach a dealer of the leading daylighting system manufacturer and ask for a free daylight consultation where you can have all your questions answered and your home can be matched to the right daylighting system model.
Become a Member to post Articles
Back to Profile