How to Conduct a Competitive Analysis?
What makes a product successful? Customer demand, right? But where there is a demand, there will be similar products from competitors. Competitors can be a touchy subject for business owners, but a little competition is always needed for improvement. For example, digital marketing is a hot field right now. We are a content marketing agency and SEO company in Chennai, and there are gazillions of competitors only in Chennai. So, what makes us different? How do we bring in more clients than our competitors?
This is where the competitive analysis comes in. A well-planned and well-executed competitive analysis will help size up the competition. New trends can be discovered with this knowledge, and obvious mistakes can be avoided. If your idea of a competitive analysis is simply a look through your competitor's website and social media, then you have a long way to go. In this article, we intend to guide you through the process of conducting an effective competitive analysis.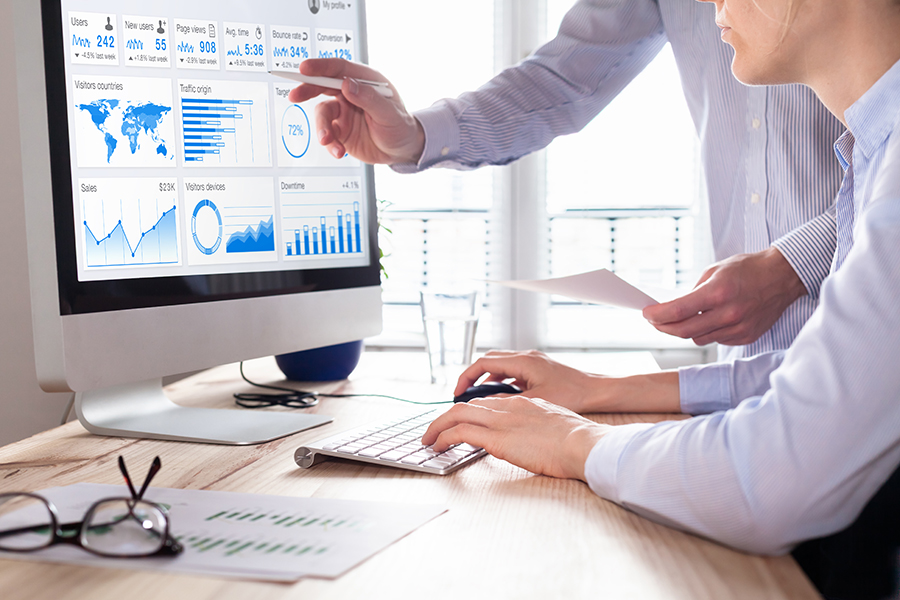 What Is Competitive Market Analysis?
This process involves finding your major competitors and researching about them. This will include research on their products, clients, marketing tactics, online presence, etc.
A properly conducted competitive market analysis will help you figure out the strengths and weaknesses of your competitors. You can adopt the strengths in favor of your business and avoid the weaknesses making your product a better one.
It also helps you identify the essence of your brand and how you can make it stand out. You can find the area that needs focus to attract your competitor's customers/clients, and you will also be able to find the demand gaps that you can fill.
Read Also: How to Get the Results You Want through Your Digital Marketing Plan?
Steps for a Successful Competitive Analysis
Whether you are a small business owner who has just started a business or a business owner with a big brand, competitive analysis forms an integral part of the betterment of your brand. Here are the steps you can follow to conduct a competitive analysis effectively.
1. Identify Your Competition
As we mentioned before, numerous competitors will offer a product/service similar to yours. You cannot do a competitive analysis for all these brands, and you need to pick out the real competition for the resulting data to be accurate.
Dividing the competitors into direct and indirect categories is the best way. A direct competitor sells the exact product/service to the same customer base as yours, and an indirect competitor sells the same kind of product as yours but to a different customer base.
A direct competitor can work as a substitute for your brand and hence needs thorough research. An indirect competitor's market analysis might help you get a different perspective on your customer base. You can identify these competitors using web search or websites such as Crunchbase and Product Hunt.
2. Research Your Competitor's Products
It all boils down to the quality of the product/service that is offered. Even the most expensive marketing strategy will fail without a good quality product.
Spend time researching the competitor's product line and quality. Identify their strengths and weaknesses. Please take note of the pricing and the discounts that they offer. Every little detail matters a lot.
3. Research Your Competitor's Customer Experiences
Customer experience greatly affects brand growth. One bad experience with the brand will make the customer drop out to find a better one. Identify the weaknesses of your competitor's brand through customer experience and try closing those demand gaps using your product.
4. Research Online Presence
This is the most important part of competitive analysis. Most of us start our purchase with an online search making it the perfect platform to advertise our products. Do complete research on your competitor's online presence and compare it with yours.
Website
A website is a powerful tool in convincing a customer to buy a product/service. About 80% of the customers check the company's website before getting associated with them.
Take a look at your competitor's website and contrast it with yours. You can use HubSpot Website Grader or Google Page Speed to conduct thorough research. Identify points that could help you gain a competitive advantage.
Content
Content will always be the king in gaining customers. Go through their website to find the type and quality of content they are using. It would help if you also noted how the content is offered. By researching the amount and quality of the content, you can identify the strong and weak competitors.
Keywords
Semrush would help you get a free analysis of your competitor's keyword performance. Other than this, you can also use Moz or SpyFu for keyword analysis. Find top keywords your competitors are ranking for. You can also check whether they operate online advertisements and even look at those ads.
Contact with Site Visitors
The success of a brand lies in converting site visitors into customers. Proper communication between the brand and visitors is necessary, and it may be through emails, phone numbers, or a contact form. Try ideas like webinars, infographics, and more to stand out.
6. List Their Strengths
Now that you have completed the major part of the analysis, it is time to list down the results. Be honest while listing your competitors' strengths and make a detailed list. This should be in comparison with your company. The strengths can be as small as less shipping costs and faster delivery or big like company size and location.
7. List Their Weaknesses
List out the weaknesses that you have observed in your competitor. This is the area where you could focus on improving your product. You might notice some weaknesses: low cash flow, location, unresponsive mobile design, lack of useful content, and more.
8. Identify Opportunities and Threats
Your competitor's weakness is your opportunity. Identify opportunities that will have a high return. Also, think about the time required to make it work. You can create a list and discuss it with your team to prioritize the opportunities you want to pursue.
For example, the company's location might be an excellent opportunity for you, but it would take time to shift or open a new branch. But creating quality content for the website (that your competitor lacks) would be a faster process that you can prioritize.
The analysis will bring to light the strong competitors who can threaten your brand. Knowing the threats and being prepared is one way to better your brand. Create strategies that will counter the strengths of your competitors.
LBN Tech Solutions
Competitor analysis might take a lot of time and human resources that small business owners cannot afford. We are a digital marketing company, and we can effectively do the job for you. We will help identify your competitors and outperform them while maintaining your online presence. Please take a look at our portfolio before you contact us.
Become a Member to post Articles
Back to Profile