Is Your Child Unhappy at Daycare?
The first few days of daycare can be a stressful and often traumatic time for a child. Getting used to a completely different environment than what the home provides and having to spend long hours in the company of other children is never easy. All children will have fears and anxieties when starting daycare. In most cases, the children get over their fears soon enough and settle down to a happy daycare routine. However, some children are not able to do this. If a child tells her parents that she is unhappy at daycare, the parents can often, usually with the help of the daycare staff, find ways to overcome these issues so that the child is happy to go to daycare. The major problem arises when a child is unhappy but does not tell her parents about it. The reasons could be many, from fear of parents' displeasure to peer pressure in the form of wanting to be like other children even if it makes the child unhappy. This kind of situation is more common than most parents realize and if not rectified quickly can have a lasting effect on the child's psyche.Knowing how to spot the signs of an unhappy child will enable parents to realize that there is a problem.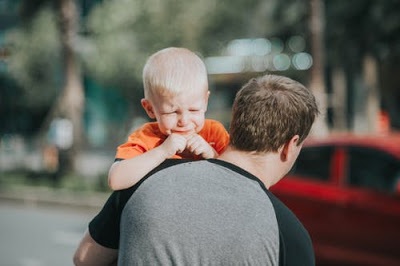 The Signs
: Crying when being dropped at daycare is normal for the first few days or even weeks. If it continues beyond that, there is probably a problem that needs to be investigated.
If a child consistently shows fear when entering daycare even after a few weeks there, it is another common indication of repressed unhappiness and fear.
A personality change is another sign. If your child shows different personality traits after starting daycare such as temper tantrums or shows signs of becoming withdrawn, it is probable that something at daycare is causing this and that stress is being carried into the home.
A child that becomes clingy and sticks to a parent is subconsciously saying that she is afraid and needs continuous parental support. The fear is often caused by daycare stress.
Revival of bad habits like thumb-sucking or soiling herself is the kind of regressive behavior that is often caused by stressful situations at daycare.
If bad habits like biting nails, pulling hair, etc. start when she begins daycare, it is a sign that the child is unhappy there.
A child that will not eat at daycare is one that is sad there.
If the starting of daycare results in bad dreams and/or sleeplessness, it is often the daycare that is the cause.
Sickness, either real or pretend, is often a symptom of mental tension caused by an unhappy daycare experience.
The Solution: If you find that your child is not happy at daycare, talk to her to find out the reason and then discuss the matter with the daycare staff to see if a solution can be found. If you find that there is no way out or the methods tried do not produce desired results and the child remains unhappy, changing daycare will often resolve the issue. Locating, contacting and visiting daycares to find one that is going to make your child happy can take up a huge amount of time. Using an online resource that will provide details and contact information about daycares in your area will make the process of finding one where the child will be happy much simpler.
Become a Member to post Articles
Back to Profile