The Shawarma Story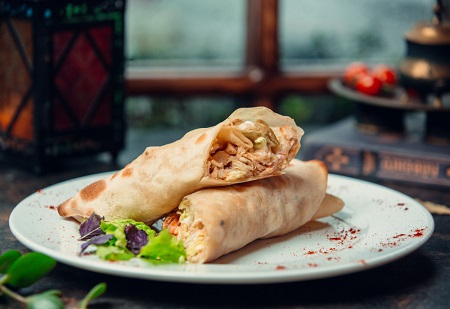 The great thing about Middle Eastern food is that there is something for everyone. Whether you are a vegan, a vegetarian, a lover of red meat, or have any other food loves or dislikes, you will find dishes to love in this cuisine. One of the best-known and most popular dishes is the shawarma. We have all seen the large rotating cones of thinly sliced meats flavored with delicious spices which make you hungry just thinking about it. But how many people know what a shawarma really is and where it comes from? Here, in brief, is the shawarma story.
Where Does It Come From?
Shawarma is believed to have made its first appearance in Turkey during the 19th century. It then moved over to neighboring Greece where it became the basis of one of that country's most popular dishes, the gyro. It was soon a staple of many Mediterranean diets. In due course, it came to the Americas along with the Lebanese immigrants who settled in Mexico. From there, it moved up across the border to the U.S. and became a universally loved dish, from the West Coast to the East.
How Is It Made?
It all starts with thinly sliced meat, which is normally either lamb, beef or chicken. This meat is marinated with a large number of spices and seasonings including paprika, turmeric and cumin. The spiced and sliced meat is loaded onto a vertical skewer with the smallest slices typically at the base and the size increasing as the stack rises to give it an inverted pyramid shape. The skewer is placed over a hot grill where it slowly rotates non-stop for hours, until the outer layer of meat is fully cooked. If extra juiciness is required, the fat dripping off the skewered meat is used to baste it.
---
Also Read: Great Food that's Also Very Healthy
---
How Is It Served?
Once the meat is ready to eat, thin slices of the roasted outer layer are sliced off. This is done using a long thin knife and it requires a great deal of practice to do it the right way. The slices are cut off only when a portion is to be served. Various vegetables like tomatoes, lettuce, onions, cucumber and cheeses and pickles are added to the meat. The sliced meat is then served with Middle Eastern bread such as pita or made into a wrap or sandwich. Various sauces are added to build up the flavor. Hummus, tahini and garlic sauces are among the most common, but one of the great things about this dish is that the taste can be modified to suit personal preferences.
Are You Hungry?
If you haven't had a shawarma before, reading this would have given you an appetite and desire to try it. If you are familiar with shawarma, what you have just read will have awakened your appetite with a desire to eat it again. Making shawarma can be a long and cumbersome process. That does not mean that you have to go to a Mediterranean restaurant when you want to have it. If you live in the San Francisco Bay Area, you can avoid the hassle of making shawarma at home. All you need to do is go to a Mediterranean deli and pick it up. Of course, the quality varies from place to place so if you want the very best homemade shawarma in San Mateo, you need to go to Aladdin Gourmet, the leader in Mediterranean grocery, deli, catering and deli products.
Become a Member to post Articles
Back to Profile