A Sneak Peak To The Learning Carnival - Get Latest Technology Insights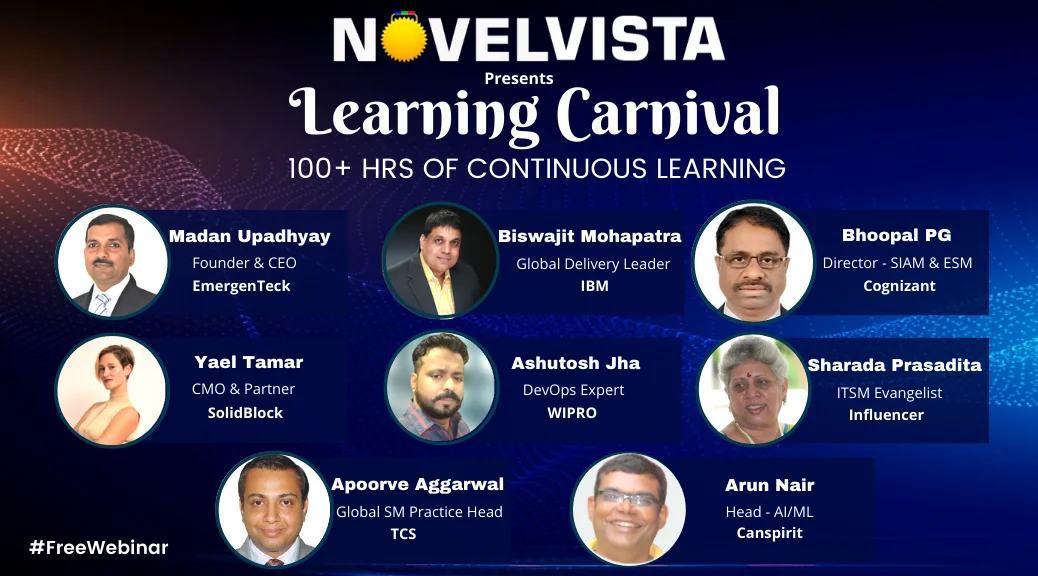 If you look up the definition of carnival, you will find out it means a traveling funfair. So by seeing the title, you might be thinking that what a learning carnival can possibly be. Do these two words even fit together?
Well, it can only be possible when learning is fun. Suppose you come across a platform where you can participate in webinars, tech talks, summits, and panel discussions in an interactive manner. It will be a carnival full of knowledge where you won't have to try hard to keep your eyes open during some boring speeches, the real-life corporate stories will keep you glued to an extent that it will be much more interesting than any movie or TV series.
Does it sound like a dream which is too good to be true?
Well, you are in luck then! In our Learning Carnival, you can do all of it! NovelVista's 'Learning Carnival' is a Knowledge sharing platform on emerging topics by industry expert speakers. Let us tell you all about the Learning Carnival first. As you know, we have been delivering blogs about wide areas of technology. But, sometimes people get tired of just reading. Hence, previous year we started getting requests from our followers to share some real-life experience from industry giants. That's when we thought, why don't we give them a platform where they can interact with experts, ask them everything they want to know and get their doubt clear? This is when we started the Learning Carnival. It took us no time to give our Learning Carnival a fine touch, and now we get 500+ registrations for every event of our carnival.
You must be eager to know what all will be discussed in the Learning Carnival. Let us not keep you waiting then!
We hope you got everything here which you have been looking for. Right? Now all you have to do is choose any of them and join our webinar on the given time and date mentioned above. Excited already? What are you waiting for then? Register here for free, and be a part of it!
Become a Member to post Articles
Back to Profile