The Hidden Risks of DIY Landscaping
The COVID-19 pandemic and the resulting lockdown has many people spending more time at home than ever before. While this has many benefits, restlessness and boredom do force people to try and find things to do safely outdoors. One of these is tinkering with the yard layout and design, or to put it more plainly, DIY landscaping. It seems like a good idea at first; you will be occupied and will spend time outdoors, the exercise will be beneficial and the money you save by going the DIY way can be used for something else. And of course, you think that you will be able to give your home that exterior look that you have always wanted. The problem with this train of thought is that it overlooks many of the serious problems that DIY landscaping causes. The cost of repairing the damage caused by DIY landscaping efforts may be higher than the cost of having the work done by a professional in the first place.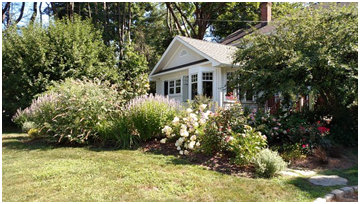 What Goes Wrong
The number of things that could go wrong when DIY landscaping is attempted are varied and many of these may be site or project-specific issues that are unique to a specific property. However, there are several problems that are common to all DIY landscaping projects:
Planning and design are critical for creating the right landscape. The overall ambience of the yard must be a cohesive and complete whole – it should not look like a number of plants and shrubs located haphazardly.
Finding the right plants is very important. Plant, shrubs, and trees grow and perform differently. Some bloom year-round while others are seasonal. Some require shade while others demand a lot of sun. Some need more water and fertilizers than others. If the mix is not right and the location chaotic, the yard will never look as it should.
Using space correctly is another important feature. A landscape is more than just a lot of plants. There must be open space to sit, walk and generally move around. This must be a part of the design.
Overlooking irrigation and lighting requirements.
Using the right type of pavers for walkway and paths.
Balancing the indoor and outdoor views. A large shrub or tree may look good when seen from the outside, but what if it happened to block the view from a window?
It is easy to think that DIY means that cost control is simple. This is not so. Landscaping involves many types of expenditure and these can build up without your knowledge until you find that you have exceeded your budget and the cost of the project is not worth it.
Do It Safe – Do It Right
Landscaping is a far more complex and specialized process than people often realize. It is only after the work has started that the obstacles become obvious. By that time, the homeowner will have wasted a great deal of time and money. This is why DIY landscaping is simply not worth it. It makes far more sense to call in a landscaping professional who will be able to create the right design and look and use plants, shrubs, pavers and other materials that are suited to the climate, soil and environment. They will also work within a budget, ensure that no collateral damage occurs and provide any future maintenance that may be required. This will allow you to spend time outdoors without any landscaping hassles or worries about upkeep.
Become a Member to post Articles
Back to Profile