Beyond Baklava - The Other Great Mediterranean Desserts Part - 2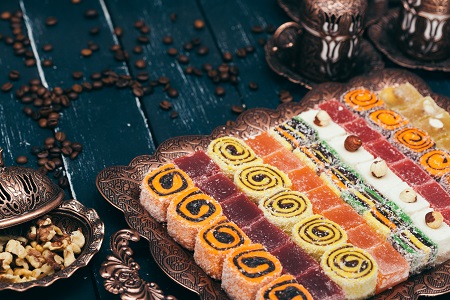 The first part of this blog looked at the many wonderful Mediterranean sweets dishes that people may not be aware of but need to try – baklava is great, but why stop there? When people talk of categories of Mediterranean sweets, they often limit themselves to varieties of baklava – Turkish baklava, chocolate baklava, pistachio baklava and so on. It's now time to look at the 3 main categories of Mediterranean sweets.
Maamoul
These are semolina-based cookies that have various fillings such as dates and other dried fruits and nuts such as walnuts, almonds and pistachios. These sweets are popular in all Mediterranean countries and the appearance, fillings and sweetness of the dish will vary depending on where it is made. While maamoul is a traditional Easter gift of the region and is a part of Eid celebrations as well, it is also eaten year-round.
The sweetness of maamoul is deceptive. They are low in sugar (so you don't need to go on a guilt trip after eating them) but robust in flavor. The most popular fillings are spiced date paste, pistachios and walnuts, but every country in the region has its interpretation of the maamoul. So, fillings to please every palate are available!
---
Also Read: Making Gyros at Home
---
Syrup Sweets
The syrup sweets of the Mediterranean define the terms sweet, gooey and yummy. Among the must-tries are:
Ataif Walnut: Delicate pastry, filled with crushed walnuts and folded before being fried and topped with rose (or other blossoms) water.
Awam: Small balls made of milk and wheat flour. The batter is fried before being dipped in syrup. The name may vary depending on where they are made.
Bamia: Wheat flour and whole eggs are mixed to create a thick smooth batter which is fried and dipped in sweet syrup. It is cut into finger-sized portions and can be eaten at any time.
Macron: A batter made of milk and semolina is fried and then dipped in sweet syrup. It is then cut into various shapes, often with a geometric pattern engraved on the surface.
Zalebi: A batter of wheat flour and fresh yogurt is fried and dipped in sweet syrup. Food coloring is often added to add to the visual appeal. These are often served on special occasions.
---
Also Read: The Benefits of Eating Hummus Regularly
---
Mediterranean Cookies
Cookie fans need to try:
Barazik: Baked cookies with mixed nuts that are coated in sesame seeds to give them a great taste and crunchy feel.
Ghraybeh Squares and Cookies: Fluffy shortbread cookies flavored with rose water and pistachios. A light but satisfying sweet.
Petit Fours: This traditional French butter cookie has Mediterranean variations. It is the toppings, which vary according to the country, that give them their unique flavor.
You don't need to go to a specialty restaurant to try out these desserts. Mediterranean sweets are easy to make at home. You can get the ingredients at a Mediterranean gourmet market and even pick up some cooking advice to take home with you. If you don't feel like cooking, the deli will have a range of sweets for you to take home and enjoy.
Become a Member to post Articles
Back to Profile