Office Lighting - A Key Factor in Productivity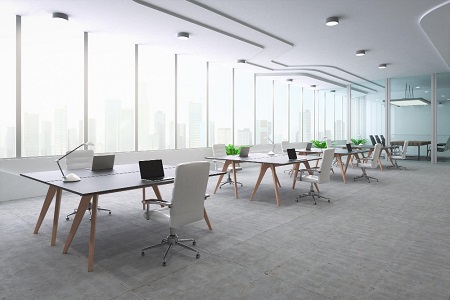 Employers the world over are giving more importance to human capital – the most important component in business success, irrespective of the size of the company and the industry it is in. A key aspect of building on the value of that human capital is providing people with the right work environment - one that will help them maximize their productivity and increase their contribution to business growth. That is why office design and lighting to promote creativity is becoming so critical. A great example of this is of course Google, with its employee-focused workspaces.
Smaller companies may not be able to go to the extent that Google does to support employee productivity, but there is still a lot that can be done. One aspect that is often overlooked is the importance of office lighting.
Out of the Shadows
Why is it important to have good lighting in your workplace? Look at an old movie from the 1920s. Offices were badly lit and the focus was on table lamps that gave people enough light to work at their desks. This created a sense of isolation among the staff – each lamp created a kind of light island that produced an atmosphere of people being individual workers and not part of a team. Jump ahead to the 1950s and offices were lit by neon lights. These gave a more uniform light through the office and reduced the light and shadow effect of table lamps. But this light was clinical, mechanical and impersonal. While being better than individual table lamps, it still did not create an atmosphere that encouraged human growth or increased creativity and productivity. Although it is being replaced by LED lighting, fluorescent lighting is still widely used today, but now other options are coming in to their own.
---
Also Read: The Health Benefits of Natural Light
---
Natural Daylight
Natural light is now a priority in the design of office lighting. There are multiple reasons for this.
According to a study by Cornell University, employees who worked in natural light had an 84% drop in eye strain, blurred vision and headache.
The American Academy of Sleep Medicine says that research has shown that people who had increased exposure to sunlight had better hormone balance and improved sleep at night, leading to increased productivity during the day.
It is free. In a time of rising energy costs, this is an important factor that affects a business's profitability.
Bring in the Light
Bringing in sunlight to an office can be a problem. Older buildings may not be designed to maximize the use of natural light. In newer ones, there may be environmental factors or physical blockages that prevent all the available sunlight from entering. Adding more windows or skylights is rarely, if ever, a viable option. There is, however, something that can be done. Installing tubular daylighting devices (TDDs) is a viable, cost-effective and maintenance-free option. Daylight systems use advanced technology light collectors on the roof to capture sunlight and then carry it to the most interior parts of a building using special reflective tubing. Daylighting installation is quick and easy and once in place, offers a hassle-free alternative to the use of electric lighting during the day. Contact the dealer of a leading manufacturer for more information.
Become a Member to post Articles
Back to Profile