Beyond Baklava - The Other Great Mediterranean Desserts Part - 1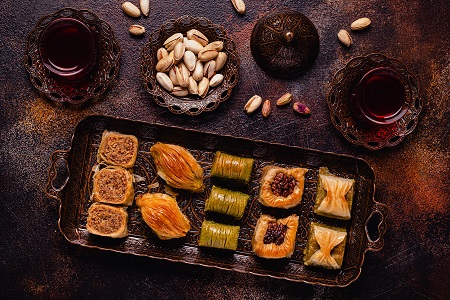 The demand for and the consequent availability of Mediterranean food is growing exponentially. When it comes to savory dishes, there is so much to choose from – hummus, falafel, shawarma, kebabs, and more. However, in the case of sweet dishes, many people think only of baklava in all its varieties – Turkish baklava, chocolate baklava, pistachio baklava, and more. While this wonderful sweet deserves its huge popularity, Mediterranean cuisine has even more wonderful sweet dishes that must be tried. Living in ignorance is never a blessing if it means missing out on these wonderful sweets and desserts.
---
Read More: Falafel Is More Versatile Than You Think
---
Burek: This is a filo pastry that may be eaten in many ways. Fillings of meat, cheese and vegetables are common. But the sweet variant with apricots, pistachios, fruits, syrups, chocolate and other fillings is a must-try.
Revani: If you like cakes, you cannot afford to miss revani. This is a yummy semolinacake from Turkey with soft layers and a sponge-like texture.
Kazandibi: This is a caramelized dairy pudding whose name means "from the bottom of the pan". The part of the mixture that sticks to the bottom of the pan (where the flavor resides) is scraped off and added to the pudding to give it a special taste.
Keşkül: Turkey has possibly more varieties of nuts than any place else. This custard is made of almond-flavored milk, eggs and vanilla and is topped with shaved coconut, almonds and pistachios.
Asure: This dessert is thought to have been created in the time of the Old Testament. The story is that Noah was the creator of this dish (which is why it is also known as Noah's pudding) and he enjoyed it while he was building Ark. It is made up of dried and fresh fruits, grains, beans and various nuts.
Fırın Sütlaç: Every part of the world has its version of rice pudding. The Mediterranean one is especially tasty and is served cold. For those who are hesitant about trying new foods, this is a great way to start exploring Mediterranean desserts.
Turkish Ice Cream: Another place to start exploring Mediterranean food for those who are timid about trying out new flavors is with this traditional Turkish ice cream. It is made of cream, whipped cream, sugar, salep and mastic and is chewy and slow to melt.
Şekerpare: Şekerpare translates into "a piece of sweetness" and is among the most famous Turkish honey-based sweets. These cookies are made of semolina, flour, syrup and honey. Anyone who loves honey will love this dish.
Ayva Tatlısı: Those who like their sweet dishes to be fruit-based will enjoy this quince-based preparation. Quinces are poached in sugared water. Once simmered, the fruit is topped with clotted cream. It not only tastes great, but it also has a wonderfully fresh aroma.
Lokma: Donut lovers will enjoy this dish of small ball-shaped pastry that is deep fried and flavored with sherbet and sugar. Honey, sesame and cinnamon variations are also popular.
---
Read More: What is a Healthy Indulgence? – Healthy Food – Mediterranean cuisine
---
There is much more to Mediterranean sweets and the second part of this blog will look at more dessert options. These desserts need not be served with just Mediterranean food – they are delicious with any type of food.
All the ingredients can be found at a good Mediterranean gourmet market where you may also be able to pick up useful cooking tips.
Become a Member to post Articles
Back to Profile