Answers to Common Questions About Hummus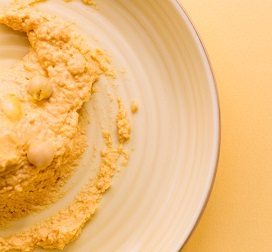 Mediterranean food is one of the most popular cuisines in America today. Its popularity is due to its great flavors, the ease of preparation and the many health benefits this diet offers. Among the popular dishes, the one that stands out as being almost everyone's favorite is hummus. If you like this dish, here are some facts about it that you may not know. If you are yet to try it, here are the reasons why you should.
How Does It Taste?
The first thing that strikes you about hummus is how smooth and creamy it is. It is the perfect dip or spread. The main flavor comes from chickpeas which are the primary ingredient. The flavor profile is built up with the use of lemon juice, garlic, tahini paste and other spices and seasonings. The great thing about hummus is that the flavor can be modified to suit all tastes.
How Is It Made?
In the Middle East, every family has its own take on what makes the perfect hummus and since the dish is so versatile, there is really no wrong way of preparing it. The basic method is as follows:
Fill a food processor with canned chickpeas that have been drained and rinsed. You can also use dried chickpeas if you prefer.
Add lemon juice, olive oil, tahini, a clove of garlic and salt and pepper. The proportion of these seasonings can be modified to suit individual tastes.
Blend until the mixture has a creamy smooth consistency.
Once you have the basics down, do not be afraid of experimenting and adding new flavors to the dish. For example, chocolate hummus is becoming a popular dessert dish.
---
Also Read: Middle Eastern Dishes You Must Try Part 1
---
Is It Good for You?
Hummus does contain fat, but it is not a dish that dieters or those who need to watch their fat intake for health reasons need to worry about. 3.5 ounces of basic hummus (without extra seasoning) has about 160 calories, 7.9 grams of protein, 14.3 grams of carbs, 6 grams of fiber and 9.6 grams of fat. In other words, hummus is healthy and using it as a dip for fresh veggies is about as healthy as you can get.
How Do You Eat It?
You can eat hummus with almost anything, but here are a few of the common foods it is eaten with.
Grilled fish
Eggplant caviar
Moroccan carrot salad
Bread like pita and laffa
Roasted peppers
Falafel
Babaganoush
Tabouleh
Stuffed grape leaves
Fattoush
Grilled lamb
Dried fruits and toasted nuts
There is no single way to serve hummus. Experiment and find your own ways to add it to your favorite dishes.
Having hummus in the fridge is a good idea. It adds flavor to everything and is a great addition to any table, irrespective of the cuisine. The quality of the hummus is most important and if you live in the San Francisco Bay Area, the best homemade hummus in San Mateo is available from Aladdin Gourmet, the go-to place for Mediterranean groceries and deli food. With Aladdin's hummus at home, gourmet food in minutes is never a problem.
Become a Member to post Articles
Back to Profile