Falafel FAQs - Understanding the Basics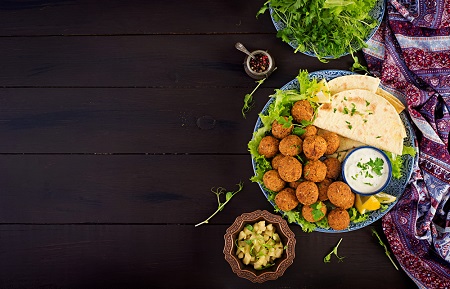 Who doesn't love falafel! Those golden balls of fried yumminess that are great either on their own, with a dip, or as part of any meal. Falafel is usually made of chickpeas, fava beans or similar legumes that are mixed with herbs and spices and then deep fried till they are crisp on the outside and tender on the inside. Although falafel is familiar to almost everyone, several misconceptions about it can ruin the preparation, both when making it at home or when it is eaten at a restaurant that does not have expertise in Mediterranean food.
Here are 4 of the most frequently asked questions about making falafel.
Can canned chickpeas be used to make falafel? The answer to this is a clear "no." Freshly soaked chickpeas have a firm texture and contain starch which adds to the composition of the ball and plays a part in it's staying in shape when fried. Canned chickpeas are much softer and have less starch so when they are used, not only is the flavor different, the balls tend to either disintegrate during frying or lose their shape.
Does falafel have to be fried? Deep frying is the traditional way of preparing the dish, but if you want to reduce your consumption of fried foods, it can also be baked. To do this, heat an oven to 375 degrees and apply high-heat cooking oil to a baking sheet. Shape the falafel into patties and not balls so that they are flat on the baking sheet. Bake for about 25 minutes, turning them over once.
Can falafel be pan fried? Once again, pan frying is an option for those who want to reduce their oil intake. To pan fry, pour a couple of tablespoons of high heat oil onto a wide skillet on medium heat. Shape the falafel into patties and fry for about 5 minutes, flipping them once.
Can falafel mixture be made in advance and frozen? Yes, the frozen mixture should last for a few days in the freezer. You can also keep soaked chickpeas in the fridge for a couple of days before using them.
Can cooked falafel be kept in the fridge? Yes they can, if kept in a covered container. Falafel can also be frozen. However, the taste will not be the same as when fresh and a lot of the texture will be lost when it is reheated.
What can falafel be served with? The simple answer to this is almost anything. It is great as a standalone anytime snack, as an accompaniment to any meal, or as picnic food. There are no rules on how falafel is to be eaten. People love it with tomato, hummus, soup, with frankfurters, with fried eggs and lots more. The list of ways to eat falafel is almost endless. Eat it the way you enjoy it.
---
Also Read: Middle Eastern Dishes You Must Try Part 1
---
Great falafel starts with great ingredients. To be sure of using only the best chickpeas, olive oil, herbs and spices, make sure you buy the ingredients from a Mediterranean grocery store that knows the importance of stocking only the best and freshest of produce. A simpler alternative is to buy it from a Mediterranean deli, either by shopping there or purchasing it online. Remember, falafel is to be enjoyed, not worried about.
Become a Member to post Articles
Back to Profile