7 Reasons Why Having an Ecommerce Website Is More Important Than Ever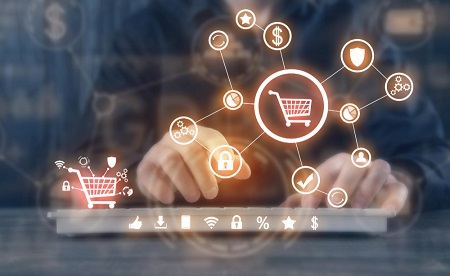 Statistics don't lie. It is found that about 91% of people get to know about a local business online. Considering the amount of time that we spend on smartphones and the internet in general, this should not be surprising. What is in fact surprising is that there are still businesses that don't understand the importance of having an Ecommerce website. We are an Ecommerce web development company in Chennai and there is no one better out there to explain the benefits of having a website.
What Is an Ecommerce Website?
Ecommerce, which is the short form of electronic commerce, refers to the selling and purchasing of products using electronic systems and the internet. Every online purchase that we make using our computers, smartphones or any other electronic device comes under the umbrella of Ecommerce. The website that makes the process happen is called the Ecommerce website.
With about 75% of the population shopping online at least once a month, you cannot refute the importance of Ecommerce websites. The process is easier and more comfortable for the customers since they can look through the different items from the comfort of their homes. Many brick-and-mortar businesses are now moving to an e-store because of the increasing demand.
Benefits of Having an Ecommerce Website – The Business Owner's Angle
Shopping from an Ecommerce website gives great benefits to the customers. For example, you can look through a wide range of products, compare the price from different stores and most importantly save a lot of time. But what about the business owners? Does having an Ecommerce website really help?
We are here to answer these questions and by the end of the blog, we hope that you will make the right decision for your business.
1. The World Becomes Your Market
When you have physical retail, you mostly focus on attracting the local population since they are more likely to become your customers. But with an Ecommerce website, you can extend your customer base to even different countries.
You can showcase your product to people regardless of the place they live in. A well-designed website with a quality product can convince the customer to stay on the website longer and maybe even buy the product.
2.Your Business Is Open 24/7
When you have an Ecommerce website, it is akin to keeping your business operating at all times. With physical retail, you have fixed opening and closing hours. But with Ecommerce websites, the customers can check out your products anytime and even order the product they wish.
It is not very unlikely for us to be scrolling through the web past bedtime. This is a time for relaxing and impulsive shopping decisions are often made at this time. Having an Ecommerce website will help gain these customers.
3. Lower Set-up and Running Costs
If you have been thinking of starting a business and are deciding between opening physical retail or setting up and Ecommerce website, then know that there is a huge difference between the two.
Setting up and maintaining an Ecommerce website is much cheaper than running a full brick-and-mortar store. For a store, you have the rent to pay, staff wages to give along with the extra bills that come from maintaining a building.
Instead, with this money, you can focus on widening the range of your products and bettering your website which will in turn bring you more customers.
4. Get to Know the Customers Better
With Ecommerce websites, you have an account of all the products that you sell along with customer details. This will help you understand the buying habits of customers.
These statistics can make you understand the needs of your customers and help you focus on the areas that require more work. This way you can improve your product and business.
You can also interact with the customers and create a bond that most of us do not have the time to do face-to-face. This will increase your customer base and loyalty.
5. You Can Work from Anywhere
Having to wake up on a Monday morning and get ready for the office is a weekly nightmare for most people. People do not fear the work but rather the routine.
With Ecommerce websites, you can break the routine and work from anywhere you like. All you need is a laptop, smartphone and access to the internet. You can work from your home, a park or even while vacationing in Bali! Choose your pick!
6. You Can Easily Scale Your Business
Understanding customer preferences will also help you choose the future of your business. For example, if you are noticing an increase in sales of a particular product, you can include related products in your product list. Customers are more likely to buy from a single website rather than ordering items from two different websites.
You can also track your digital ads and social media campaigns. According to the response, you can learn about the demand for the product along with the preference of the customers.
---
Also Read: What should small businesses post on social media (a complete guide)?
---
7. Less Risk
Ecommerce websites are the best choice when it comes to business transactions. You require very few licenses and permits to start an online store. You will also require only a small workforce to keep the business running.
You can enjoy increased profits with fewer risks like shoplifting, rogue workers or customers, damages to goods and more which is often the case with physical stores.
LBN Tech Solutions
Give your customers a comfortable shopping experience with the help of Ecommerce websites. To get a quality Ecommerce website developed for your business by professionals, visit us here.
Become a Member to post Articles
Back to Profile