Leveraging Salesforce Solutions to Accelerate Business Performance
In today's digital era, leveraging technology solutions is no longer a choice but has become necessary to remain competitive. Since customers are the cornerstone of every business entity, organizations should ensure seamless customer communication along with process efficiency to ensure customer satisfaction. One such technology solution that provides businesses with a 360-degree view of their customers while enabling them to better connect with their customers through a wide array of features, functionalities, and components is Salesforce.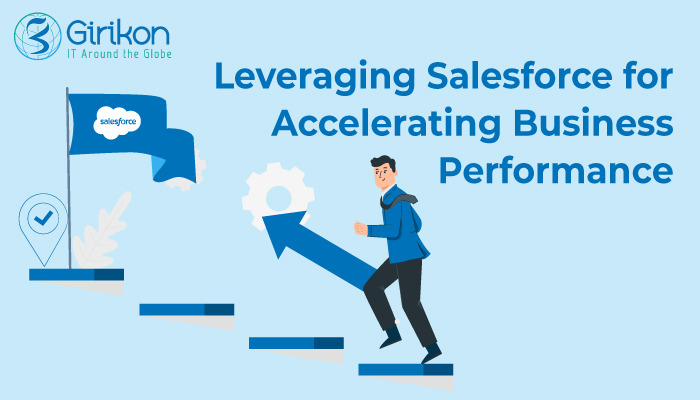 Salesforce – a cloud-based CRM (Customer Relationship Management) system enjoys widespread popularity and has been adopted by businesses of different sizes and across different industry verticals. On being implemented, the software as a service (Saas) platform helps in streamlining business operations including sales, service, marketing, and more. By leveraging solutions from a reputed Salesforce consulting partner, organizations would be able to unify, implement and manage multiple functions with ease while enjoying improved business and ROI.
However, implementing Salesforce to accelerate business performance is easier said than and requires partnering with an expert. An expert Salesforce Partner has the necessary skills and technical knowledge to implement, customize, and integrate Salesforce products while helping businesses alleviate bottlenecks and risks associated with Salesforce adoption.
Factors to Consider When Selecting a Salesforce Partner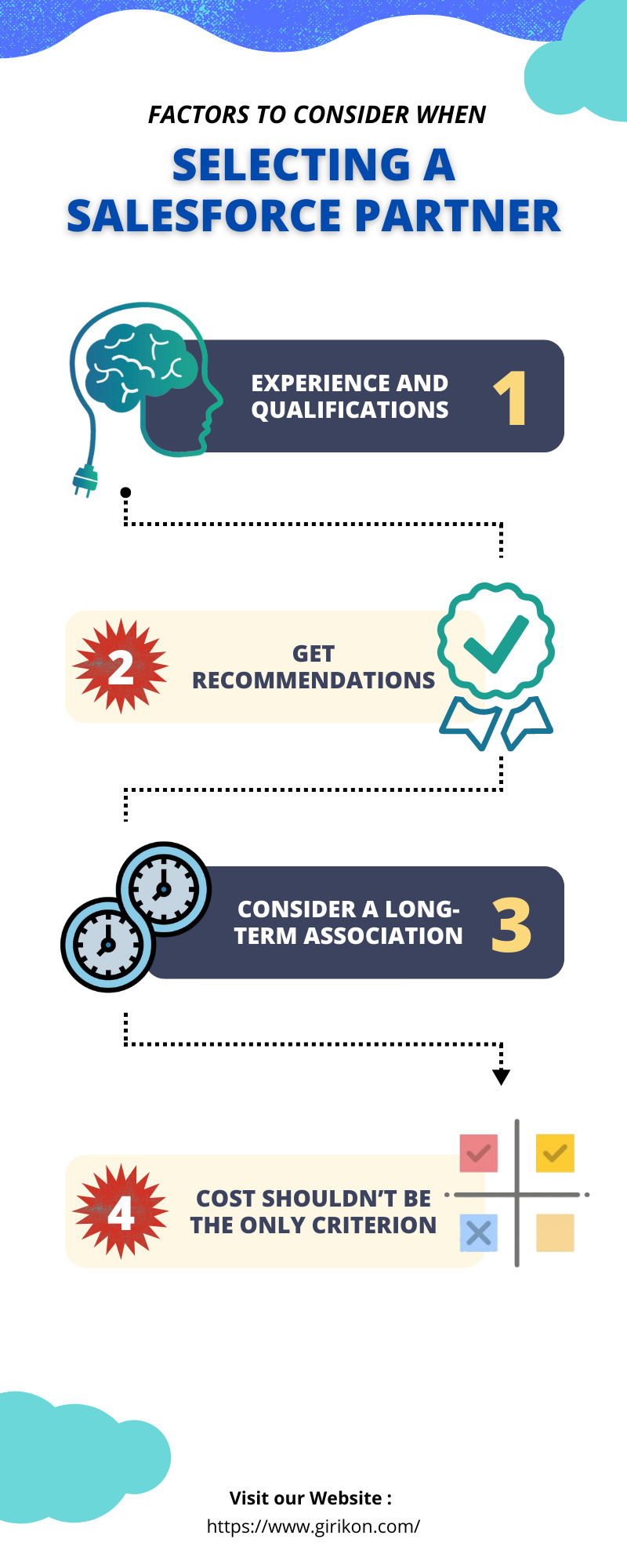 Experience and Qualifications: Prior experience and qualifications are key criteria for evaluating a Salesforce partner. So, it is important to make a background check of their credentials, experience, and qualifications. Since there is no substitute for experience, it's important to check whether your potential partner has delivered projects similar to yours or worked in an industry similar to yours.
Get Recommendations: When looking for a reputed partner, it is essential to seek recommendations from multiple places. The most appropriate place to look for reviews and recommendations is the Salesforce AppExchange listing for the partners. You will be able to see CSAT (Customer Satisfaction rating) for partners and the projects they have accomplished over the last 18 months. These ratings are legitimate as these surveys are conducted by Salesforce directly with customers. You can also speak with people in your network who have worked on similar projects to seek their opinion. Once you have narrowed down your choice, request client references from them before calling them.
Consider a Long-Term Association: You must consider associating with a partner who will be at your side for the long haul. For a long-term association, both you and your partner should make collaborative efforts. While you should share your vision and strategy with your partner, your partner should be able to deliver lasting value that can easily be adopted by your staff.
Cost Shouldn't be the Only Criterion: You might find yourself in a jiffy when you seek cost estimates from different partners. Don't let the cost estimates overpower your judgment in choosing the right partner for your organization. It is important for you to understand that variations in cost might not be a sign that they are simply expensive but maybe because of a different explanation of business needs. So, before factoring in the cost, determine the right fit.
Final Words:
Deciding to implement Salesforce to meet your business needs might be easy. However, successfully implementing Salesforce requires partnering with an experienced and one of the best Salesforce Implementation Partners. However, make sure you take note of the aforementioned suggestions to select the right partner who will help you realize your vision.
Become a Member to post Articles
Back to Profile