Understanding Baklava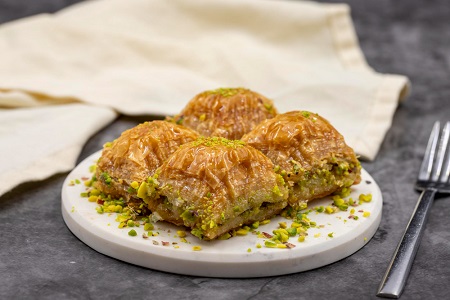 When you think of Mediterranean cuisine, the first image is usually of delicious and spicy meat dishes like kebabs. And then of course there is hummus and falafel. But what about desserts? Turkish delight is what many people immediately think of, but there is a huge and rapidly increasing group of food lovers for whom desserts begin, center, and end with baklava. For the uninitiated (if there are any), baklava is made up of many layers of super thin, crisp, flaky, and crunchy sheets of buttery phyllo pastry. The traditional filling is nuts and while it remains the most common filling, cooks are today experimenting very successfully with other fillings. Baklava is simultaneously a complex and simple dish. Understanding where it's from and how it's made adds to the appreciation of this wonderful dessert.
History of Baklava
This is a hotly disputed matter. While the countries of the Mediterranean region are generally good neighbors, when it comes to food, they all jealously guard their heritage, and bitter (but good-natured) arguments often rage about the origins of the famous dish. The Arabs, Armenians, Bulgarians, Greeks, and Turks are amongst the claimants of the baklava heritage. There is no clear history or record of any kind that establishes its origin. Every nation has its variation of baklava and all of them are delicious. That said, Turkish baklava is the most popular form of this dessert globally. It is the first among equals.
Baklava had a very important place in the Ottoman Empire. There is evidence that it existed well before then, but it was in the kitchens of the Ottomans around the 15th century that baklava, as we know it today, came into existence. It was served on all special occasions like festivals, weddings, and religious events.
---
Also Read: How to Find Great Deli Food – Deli Food in San Mateo
---
Basic Ingredients to prepare Baklava
The preparation process is not difficult and finding detailed recipes online is easy. Before you begin, you need to be sure that you have the following ingredients ready in your kitchen:
Phyllo sheets or filo
Butter for melting
Sugar
Lemon wedges
Water
The nuts, dried fruits, or whatever else is going to be the filling. Among the most popular types of Turkish baklava are walnut baklava, pistachio baklava, and hazelnut baklava.
Making baklava may not be difficult, but it can be time-consuming. Even in the Mediterranean countries from where it comes, people are now buying ready-to-eat baklava from groceries and sweet shops. The subtle touch of an expert baklava maker is not something that can be duplicated by the home cook. In America, if you are looking for a way to enjoy a great dessert without having to spend a long time in the kitchen, find a Mediterranean grocery or deli near where you live. The best ones, like Aladdin Gourmet, offer online ordering. It's that simple.
Become a Member to post Articles
Back to Profile