A Home Ventilation Check List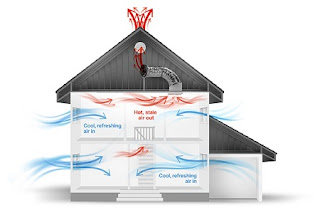 Ensuring that your home is properly ventilated will keep your family healthy and comfortable and make the home a happier place to be in. Whether you are building a new house, remodeling an existing one or just want to make some changes to protect the family and increase their comfort, here are a few of the key factors you need to keep in mind about home ventilation.
Ensure the House Is Well-Sealed: This is a key factor in energy efficiency. If there is an uncontrolled seepage of air out of the windows or other openings, the heating and cooling load will increase and result in higher climate control costs. A home cannot and should not be airtight – there must be a flow of fresh air into the house to keep it fresh and the occupants healthy. The right way to balance the need to have a well-sealed home and the need for fresh air is to use a whole-house ventilation system that enables you to control the circulation and the amount of fresh air entering the house.
Don't Forget the Attic: Most homeowners are aware of the importance of attic ventilation in controlling heat loss and reducing air conditioning load. What many forget about is the need to ensure that the attic is well-ventilated. If stagnant air collects there, the humidity will increase and that will cause mold and mildew formation. From here, the unhealthy fungus will find its way down to the rest of the house. Keeping the attic well-ventilated will help control humidity and also keep the attic cooler in summer, making the air conditioning more effective and preventing the development of ice dams in very cold weather. An attic fan is a good way to ensure proper attic ventilation.
---
Read Also: A New Skylight Can Add Value To Your Home
---
Laundry Room: This tends to become very humid and this moisture can easily spread to the rest of the building, leading to all kinds of problems. Besides the impact on health, excess humidity can affect paint, furniture polish and even get into drywall. Ensure that the laundry room has all the ventilation it needs.
Kitchen: Even with windows open (when possible) and using a hood to take away smoke and food odors, some amount of smoke and smell will seep out of the kitchen into the rest of the home. Even the most appetizing of smells can become tiresome if you are constantly exposed to them. Who wants a bedroom that smells like fried chicken? A whole house fan will expel all the stale air and draw fresh clean air into the kitchen.
Basement: Because there is scope for only a limited number of windows and the size is often small, basement ventilation can become a serious problem. That is one of the main reasons why this large area in most homes is underused. Installing a whole house fan to draw stale air out and replace it with fresh clean air will make the basement a comfortable part of the house and one which may be put to a variety of uses.
---
Read Also: Are Daylighting Systems Effective When It's Cloudy?
---
Ensuring that a home is well-ventilated is not rocket science. Nor is it very expensive. A little thought and planning can make a home a fresher and more pleasant place to be in and also open up underused parts of the home.
The right way to go about ensuring that your home is well-ventilated is to contact a leader in home ventilation systems. For those living in the Bay Area, that will be Sunlight Concepts, the premier dealer for Solatube whole house and attic fans and daylighting systems.
Become a Member to post Articles
Back to Profile