The Goodness of Coconut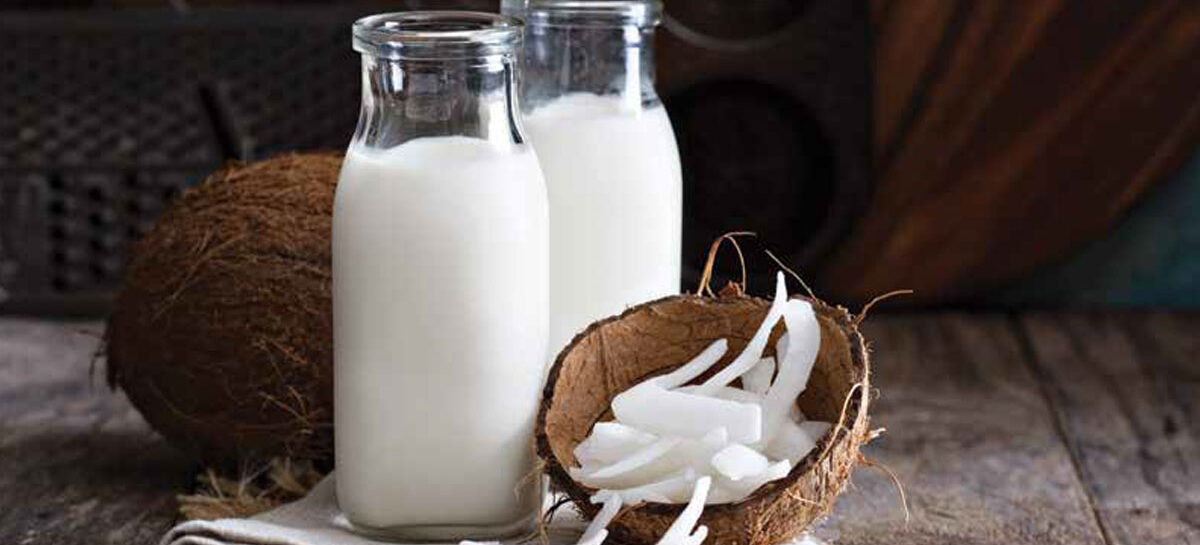 It is perfectly fine to use coconut in our recipes, and it all depends on how we use it. One can consume about 40g coconut per day, and it is okay as long as it is uncooked. Its cholesterol content increases only when you grate it and extract milk and then boil it. The same goes for coconut dry kernel, certain foods taste better when coconut dry kernel is used, but it is not good for health. When coconut matures and becomes dry kernel, the nutrients in it get modified and the cholesterol content increases. So it is better to avoid using coconut dry kernel in cooking as much as possible. In general, coconut is good for everyone, but those with high cholesterol levels would do well to avoid it.
When we extract coconut milk, we also remove its fiber content and only the cholesterol remains. Coconut has the power to cure stomach ulcers, which is why even when one has mouth sores it is recommended to chew and eat uncooked coconut, as coconut milk heals the sores quickly. This is also the reason coconut milk is highly recommended for ulcer patients as well.
Who should not eat coconut?
It contains high amounts of bad fat, that is, saturated fatty acid. High amounts of this is found in dry kernel and cooked coconut. Alternatively, children who need more protein and fat can be given coconut burfi and sweets made of coconut and jaggery.
Children who are under-weight may benefit from the protein, cholesterol and calories in dry kernel. They can be fed dry kernel powder and dry kernel mixture often. Dry roast grated dry kernel, dry red chillies, urad dal, curry leaves and asafetida in a pan, and powder it along with salt. This powder can be mixed in hot rice and fed to under-weight children, which helps them gain weight.
Coconut water on an empty stomach?
Even people who are advised to not eat coconut, are sometimes recommended by doctors and consultants to drink coconut water, because it is a comfort food. When coconut water is given to someone suffering from diarrhea and has become dehydrated, and is in a condition that requires hospitalization…he gains instant energy. Coconut water has enormous amounts of sodium and potassium that is not found in any other food source. This is also recommended for heart patients, because coconut water is the only source that contains pure potassium that they require. However coconut water is not recommended if they have kidney problems; and if given in spite of the warning, it could prove fatal.
There is a notion among many, that drinking coconut water on an empty stomach is good for health. But nothing could be further from the truth – it should be avoided and it is good to drink coconut water anytime between breakfast and lunch. Drinking on an empty stomach makes even a small amount of carbohydrate present in it to our increase blood sugar levels. Coconut water brings down the body temperature, and the minerals present in it are good for health. Sports people and serious body-builders can drink coconut water after their sports and work-out routine and gain instant energy. Coconut water is also a super food for people who are on a diet and those who always feel fatigued. Those who drink coconut water everyday can retain a youthful appearance. When you are out, avoid consuming aerated soft drinks and drink coconut water instead.
Cancer Vs Coconut oil!
The coconut research center in Colorado State, USA is involved in the study of how coconut oil can help protect against cancer, using animals. 'All animals affected by cancer were fed the same fodder – except for the oil added to it. We tried a few oils including olive oil, sunflower oil, rapseed oil and coconut oil. Cancer advanced to the next level in all animals except those that were fed with coconut oil' say researchers. However AICR (American Institute for Cancer Research) has warned against the exaggeration of projecting coconut oil as a cure for cancer.
We must thank coconuts for their high selenium content! And it contains antioxidants as well, which delays the ageing of human cells. Also, AICR has said that the usefulness of coconut in fighting cancer has not been confirmed yet.
However, coconut milk is a healthy alternative because it contains high amounts of potassium, vitamin C and magnesium. Actually, coconut water is superior to any sports drink. It has also been used for infusion in emergencies, as its pH value is similar to that of human blood and its salt content is similar to that found in human cells.
Sports people and people doing serious workouts gain instant energy by drinking coconut water immediately after playing the sport or workout. Coconut water is an excellent food for those on a diet, and those that feel tired all the time as well.
In remote islands the World over, where the inhabitants cannot easily access water sources, they almost always depend on coconut water to quench their thirst.
Kauvery Hospital is globally known for its multidisciplinary services at all its Centers of Excellence, and for its comprehensive, Avant-Grade technology, especially in diagnostics and remedial care in heart diseases, transplantation, vascular and neurosciences medicine. Located in the heart of Trichy (Tennur, Royal Road and Alexandria Road (Cantonment), Chennai, Hosur, Salem and Bengaluru, the hospital also renders adult and pediatric trauma care.
Chennai – 044 4000 6000 • Trichy – Cantonment – 0431 4077777 • Trichy – Heartcity – 0431 4003500 • Trichy – Tennur – 0431 4022555 • Hosur – 04344 272727 • Salem – 0427 2677777 • Tirunelveli – 0462 4006000 • Bengaluru – 080 6801 6801
Become a Member to post Articles
Back to Profile