Ganesh Chaturthi: The Occasion to Worship Lord Ganesha
Ganesh Chaturthi is the main festival for the Marathi's and is celebrated in entire Maharashtra. This guide will give you every single piece of information regarding Ganesh Chaturthi and its rituals.
History of Ganesh Chaturthi
Ganesh Chaturthi is celebrated every year by Indians. Lord Ganesha is the younger son of Lord Shiva and Goddess Parvati. There are many stories behind the birth of Lord Ganesha. The most commonly known story is Goddess Parvati made Lord Ganesha with sandalwood paste to guard her in Lord Shiva's absence.
Lord Shiva was unknown with this fact. One day Goddess Parvati asked Lord Ganesha to guard the door while she was bathing inside and said he should not let anyone enter through the door, no matter who comes. As per his mother's command, Lord Ganesha was standing outside the door guarding it.
Even when Lord Shiva came Lord Ganesha didn't let Lord Shiva get in as he didn't know who Lord Shiva was and was ready to fight with him. Lord Shiva got angry by this entire incident and chopped off his head. When Goddess Parvati came out saw her son lying down, she was enraged and asked Lord Shiva to bring back her son's life.
Lord Shiva asked his followers to immediately find a child whose mother has her back to her child but they couldn't find such a child. After a long time, they saw an elephant turn its back towards her child and chopped the baby elephant's head.
They brought the head to Lord Shiva and he placed the head in the right place and Lord Ganesh got a new life. God's from the entire universe blessed Lord Ganesha and Goddess Parvati said that that Lord Ganesha will be worshipped at this auspicious day of Ganesh Chaturthi.
1st Sarvajanik Ganesh Festival
Sarvajanik Ganesha Festival or Public Ganesha Festival was started a century by a freedom fighter Bhausaheb Laxman Javale in the year 1892 and numerous Marathi families took part in the festival. It started when Krishnajipant Khasgiwale-
A Pune resident visited Gwalior and there he witnessed the Sarvajanik Ganesha Festival or the traditional public celebration and brought it to the attention of his friends Bhausaheb, back in Pune. it was then Bhausaheb Javale A royal physician and a freedom fighter installed Lord Ganesha's idol in Pune in the year 1893. Freedom fighter Lokmanya Tilak also praised the concept of Sarvajanik Ganesha Utsav.
Rituals Performing During Ganesh Festival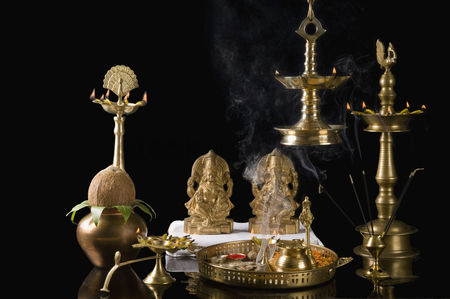 Some of the rituals of Ganesha Puja are listed below :
Pratishtapana-Before bringing Lord Ganesha's idol at home, the entire house needs to be cleaned. Every member of the family should take bath and sit for the puja that would be performed by the pandit as they are specialized in the field. After placing Lord Ganesha on a clean platform, the priest or pandit starts chanting the mantra. The primary step of the puja is the Prathisthapana of Ganesha. Prathisthapana of Lord Ganesha means infusing life in the idol. The priest by chanting the holy mantra invokes Lord to reside in the murti. After Pratisthapana, the rest of the rituals of Ganesha Pujan is taken forward.
Rishi Panchami- Rishi Panchami is the next day of Ganesh Chaturthi. Traditionally, Rishi Panchami, Sapta Rishi, or the seven sages are worshipped.
Gauri Pujan- Gauri Pujan is a festival celebrated in Maharashtra. The puja is all about worshipping Goddess Gauri or Parvati- Mother of Lord Ganesha. Gauri Pujan requires flowers and leaves of a specific plant. A priest or pujari needs to be invited to complete the puja. Gauri puja includes
aarti, and all the rituals performed in the Goddess Puja.
After the puja has been completed, all the women reach their neighboring houses or relatives' houses to offer a piece of cloth, coconut, bananas, flowers, and a beautiful new saree for Goddess Gauri. Every woman wears new sarees in the Gauri Pujan. At night, the women gather and sing Gauri Mangala songs and remain awake for the entire night. Men do not take part in Gauri Pujan as the puja is for Goddess Gauri- The most powerful Goddess on Earth.
Gauri Visarjan-Gauri visarjan is done on the very next day of Gauri Pujan. It is done on the seventh day of Ganesh Chaturthi. Before the Visarjan, Goddess Gauri is offered bhog of cooked rice mixed with cooked fenugreek leaves and curd, and her prasad is distributed among her devotees and they have it as the blessings of Goddess Gauri. Then after performing her aarti, the idol of Goddess Gauri is taken for visarjan and immersed in the sea.
Uttar Puja- Uttar Puja is performed just before immersing the idol of Lord Ganesha in the floating water. Uttar Puja is done before Ganesha Visarjan and performed by chanting some certain mantras. The steps of Uttar Puja are
Sankalp

Apply of Chandan

Offering vermillion and turmeric powder

Offering flower and patri

Waving incense sticks

Waving ghee Diya

Offering naivedva
And reciting some mantras.
Visarjan-Visarjan of Lord Ganesha is performed on the 10th day of Ganesh Chaturthi. The festival of the 10th day is called Anant Chaturdashi. The word Visarjan implies immersion in water as the meaning of visarjan is immersing. The idol of Ganesha is immersed in the sea or river of any other floating water body. On the day of Visarjan. The beach of Mumbai is crowded like anything. Every people brings their Ganesha idol for visarjan from their homes or offices which they brought on the first day of Chaturthi. People come out in processions carrying their beloved idols. It is believed that after visarjan, Lord Ganesha goes back to his parents Lord Shiva and Goddess Parvati in Mount Kailash.
Celebration In India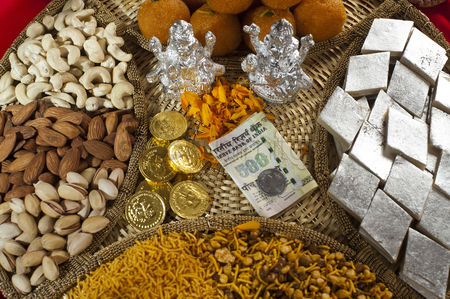 Ganesh Chaturthi is the main festival of Maharashtra but is celebrated in entire India. Today, in every state, the holy puja is being performed in every house. Lord Ganesha is treated as a divine guest in every house who stays for 11 days on this Earth.
Food
Some foods are loved by Lord Ganesha and these foods are offered to Lord Ganesha. These foods are

Modaks-

Modaks are Lord Ganesha's most favorite food. He loves the food so much, that he is often called 'Modapriya'. The sweet dumplings are made of coconut, rice flour, and jaggery.

Motichoor Laddoo-

Another favourite food of Lord Ganesha is Motichoor laddoo. Lord Ganesha's love for laddoo is also mentioned in the ancient mythological books. He is so much in love with these sweets, that it seems like the puja will be incomplete without these foods.

Banana-

Garlands made of Ganesha are also offered to Lord Vinayak. it is because Ganapati Bappa loves bananas, and according to the bengali ritual, Lord Ganesha is married to the banana tree or Kola Bou.
Environmental Impact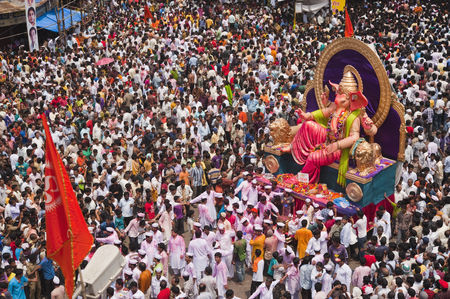 Lord Ganesha is the Lord of the environment as the things needed for his puja is environment friendly. From flowers to betel leaves, from coconuts to bananas. However, the Visarjan of Lord Ganesha affects the environment strongly. Ganesh Chaturthi In Maharashtra is celebrated very grandly. However, sadly the Visarjan pollutes the sea to a great extent. So, many households bring the idol of Lord Ganesha which is eco-friendly and made of leaves, chocolate mud, do not harm our Mother Earth. However, pollution, in water, air, noise pollution still exists.
This was a brief guide on Ganesh Chaturthi. If you want Ashtavinayak Darshan you can contact the Ashtavinayak tour package from Mumbai.
Become a Member to post Articles
Back to Profile