How Does Video Content Help Improve SEO?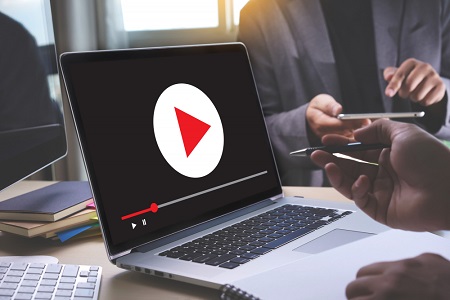 If you are a digital marketer then you might have heard the term SEO more than your name being called. Search engine optimization (SEO) is the basic foundation of your business's online presence making it an important factor to focus on for the success of your business. Understanding the types of content marketing and utilizing them in the right way can help with SEO.
Among the different types of content, videos have a greater impact on optimization efforts for the website. Adding video content to your website can make it rank higher in the SERPs.
Videos and SEO
85% of digital marketers use videos to boost SEO. If this isn't proof enough, we will give you 5 more reasons to add videos to your website ASAP.
1. Videos Attract Traffic
Customers have a lot of options with numerous vendors offering the same type of product. Only when you convince the website visitors with quality and exciting content, do they turn into customers.
Increasing website traffic is one of the first steps in building a strong customer base. With the Google Penguin and Panda updates, we now know that making the website rank is not all about backlinks. You also need to attract customers naturally to your website for which good content is needed.
According to Cisco, 81% of the website traffic comes from video consumption and the numbers are only on the rise. When your website ranks better in the search results, website traffic naturally increases which consequently means more customers.
2. Google Loves Videos
Google is currently the most powerful search engine and this does not seem to be changing soon. Google's internal algorithm is rumoured to rank the websites with videos higher than the ones without videos.
Also, the quality of your content matters along with its relevance to the customer's search terms. When searching for results, the search engine scans all types of content on a website and this not only includes texts but also other forms of content like videos, infographics and more. If your website has various types of quality content along with ranking keywords, then you have the chance of ranking higher than your competitors.
3. Videos Make People Spend More Time on Your Website
Another benefit of videos is that it is engaging. People tend to spend more time watching videos than reading a blog. This is a sign of credibility and competence to search engines since only good content makes people give their time. Even if the traffic is high, the visitors won't stay long if the content is not good enough.
Making people stay longer on your website will improve your bounce rate which in turn makes the search engines rank you higher in the search results.
4. Videos Have a Greater Link-Building Potential
Backlinks play a major role in boosting search engine rankings and you need more people linking to your content and domain for you to become popular. Domain authority of your website greatly depends on the quality of backlinks that you gain.
Sharing video content on YouTube, social media platforms, OTT platforms and more can earn you referral traffic and also publicity that will boost your ranking.
Creating good top-of-the-funnel content (TOFU content) that educates people will help you rank higher since you have the chance of top-quality sites sourcing your information for their content.
5. Videos Influence Conversions
Driving more traffic to your website does not matter if the visitors do not convert into customers. Videos help in this process too thus improving the value of SEO.
---
Also Read: Top 5 SEO Mistakes to Avoid
---
People are twice as likely to purchase a product after watching a product/service video. Videos are engaging and easy to understand thus convincing the shopper to associate with the brand by better explaining the product or service. But it is your job to make the video engaging.
LBN Tech Solutions
There is a lot that goes into creating a perfect marketing strategy for a business. We have professionals who do it seamlessly. To know what our clients say about us, visit here.
Become a Member to post Articles
Back to Profile