Mediterranean Snacks – Tasty, Filling, and Healthy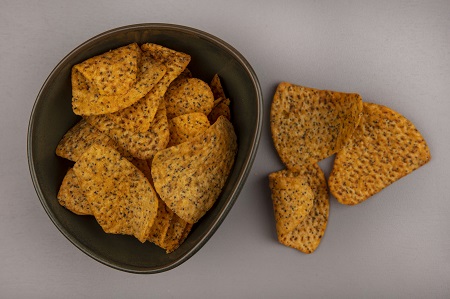 Snacking and dieting have always been enemies. The common perception is that you can either diet to control your weight or snack and forget about weight control and good health. While that may generally be true, there is a great exception to the rule and that is the Mediterranean diet which encourages snacking by offering healthy nibbles that will not go straight to your waist or push up your cholesterol levels. The cuisine consists of lots of fruits, veggies and whole grains along with legumes, nuts and seafood. That is why it has been at the top of U.S. News's Best Diets for 6 straight years. Healthy small plates have been a staple across a broad swathe of the world, from tapas in Spain to antipasti in Italy and mezze in Turkey and Greece. Mediterranean snacks tend to be more savory than sweet, which is a bonus for those who want to reduce their sugar intake. Here are a few snack ideas to munch on.
---
Also Read: Beyond Baklava – The Other Great Mediterranean Desserts Part – 1
---
Avocado Toast: Place slices of ripe avocado and a soft-boiled egg on whole-grain toast. It makes a great-tasting snack that is full of omega-3 fatty acids, fiber, protein and other heart-healthy ingredients.
Baba Ghanouj: This eggplant puree is made with extra virgin olive oil and tahini. It has a delicious smoky taste and is rich in iron, potassium, calcium, carbs and vitamin C. It can be eaten with anything but is most popular as a dip for slices of fresh raw vegetables.
Hummus: This is one of the most popular Mediterranean foods but that does not reduce its health benefits. It is made with chickpeas, tahini and olive oil and can be flavored with pine nuts, roasted red peppers, roasted garlic, spinach, artichoke and lemon. It is a great source of protein and healthy fats. It is a versatile dip but is most popular with cucumbers, cherry tomatoes, carrots and celery.
Nuts and Seeds: Nuts and seeds are a major component of Mediterranean food and because they are packed with healthy fats, protein, magnesium, copper and vitamin E, they contribute greatly to the health benefits that the cuisine offers. Among the most popular nuts are almonds, cashews, hazelnuts, pine nuts, pistachios, pumpkin seeds, sesame seeds and walnuts. Nuts can be had either raw or roasted (10 minutes in an oven at 350 degrees Fahrenheit will release the fragrance and flavors).
Bean Salad: A bean salad with chickpeas and kidney beans with chopped cucumber, tomatoes, onions and red peppers and drizzled with a dressing made up of olive oil, lemon juice, Dijon mustard, garlic, oregano, balsamic vinegar, salt and pepper is delicious. It is heart-healthy because of the olive oil and legumes and is full of antioxidants.
---
Also Read: Beyond Baklava – The Other Great Mediterranean Desserts Part – 2
---
These are just a few of the healthy and delicious Mediterranean snacks you should try.
There is much more to Mediterranean snacks and food than the common Turkish baklava, pistachio baklava and chocolate baklava. If you want to try making these dishes, recipes are available online. For ingredients, you need only to go to a Mediterranean grocery store or order from a Mediterranean deli. In the Bay Area, Aladdin Gourmet is the one-stop source for all Mediterranean food, snacks and deli items.
Become a Member to post Articles
Back to Profile