Top 5 Reasons Why Your Business Needs a Website in 2023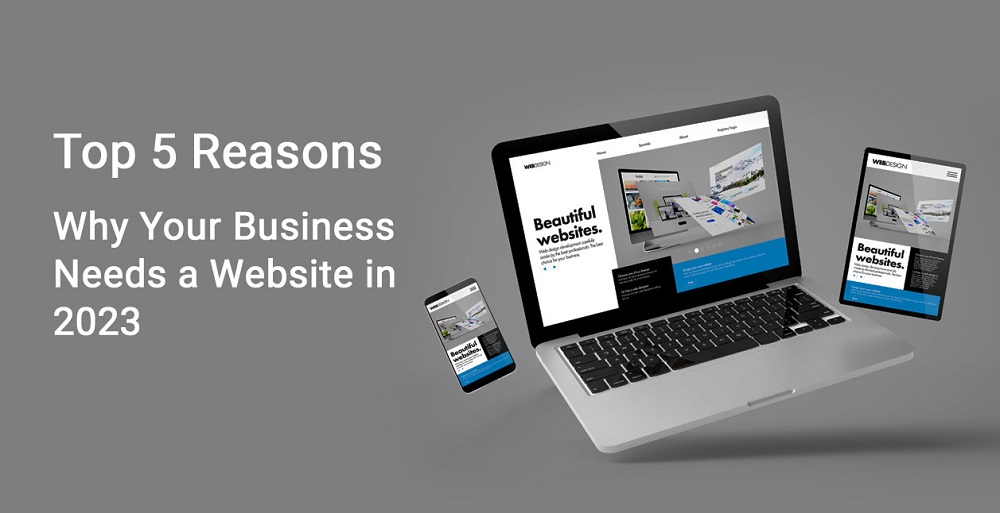 "Technology is not my forte!", "It is too costly for me!", "My business is doing alright.", "I cannot sell my product or business online." – what is your reason for not having a business website?
All of these might seem like good enough reasons for you but in reality, your business does need a website. We as a content marketing and website development company know this better than anyone else. Spare us some of your time and we will prove why a website is good for your business.
How a Website Gets Better Business?
In business, it is all about making a profit while satisfying customer needs. In the digital era that we now live in, customer satisfaction requires the business to stay updated with the changing trends.
Did you know that more than 80% of customers check out a business online before making a purchase decision? Where will people check out your product if you don't have a website? While this is the primary reason, there are more reasons for having a business website.
---
Read Also: What Are the Major Elements of an Ideal E-Commerce Website?
---
Instant Credibility for Your Business
Research suggests that about 51% of customers don't trust a business without a website. Get a well-designed website and you have the means of creating a good first impression.
You get to introduce your business and product in a better way to your potential customers. Also, your customers could check out the reviews of the product/service which increases the trust in your business.
A website might be seen as social proof for your business. People are more likely to associate with your business when they find it to be legitimate.
A Website Saves Time and Time Is Money
A lot of effort goes into finding potential customers and trying to convert them.
Set up a website it works for you 24/7. The users can check your content any time of the day and also place orders. With an AI-powered chat box, the basic questions about products and sales orders are taken care of.
Now, with the extra time that you have on your hands, you can concentrate on more important tasks or even rest a little.
Wider Reach
Having a website can help you compete with bigger competitors. When your product/service is impressive and you work to make your website rank higher in the search engines, you have a better chance of attracting potential customers.
Hence, small businesses should consider creating a website for their business. With the right keywords and digital marketing strategy, it is possible to get a good online presence which will soon convert into better revenue.
Better Communication with Customers
Today's customers are skeptical and they need to be convinced. You need to show them what you have to offer and how it will benefit them. A good rapport between business owners and customers is more likely with a website.
Reviews are vital in building trust in your business. You can also have a communication space where you answer questions from your customers. You can also control the narrative by updating accurate content about your business.
---
Read Also: Reasons Why Google May Penalize Your Website
---
Better ROI
The top priority of any business owner is to increase the return on investment (ROI). A website can help with that in several ways.
A website created with the target audience in mind can generate more leads.
By focusing on SEO, your website will get more organic traffic which in turn makes your website rank higher in the SERPs.
With strategically placed CTA buttons, you can influence the customers to make a purchase.
You can track your progress easily with website analysis.
LBN Tech Solutions
Creating a website doesn't have to be hard and expensive. We can design a dream website for your business at an affordable price. Check out our portfolio and then decide about hiring us.
Become a Member to post Articles
Back to Profile