Acute fatty liver of pregnancy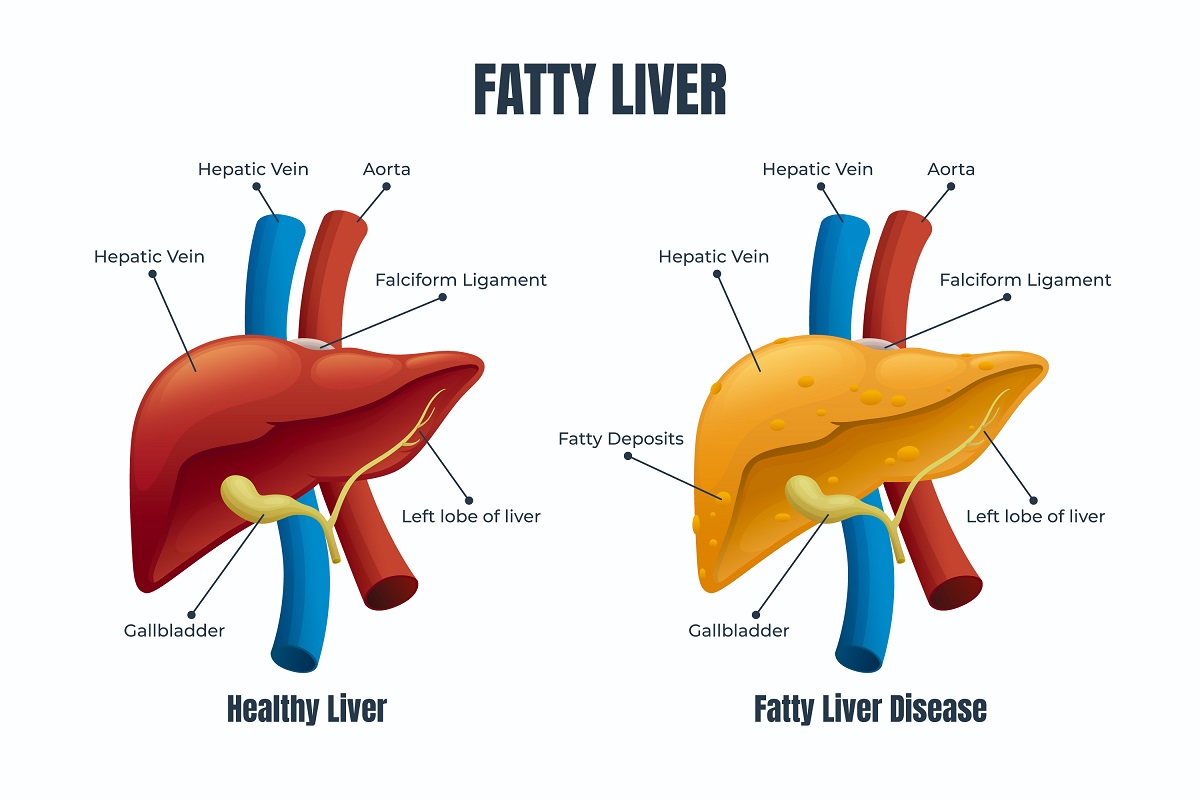 Acute fatty liver of pregnancy (AFLP) is a rare obstetric complication that usually occurs during the third trimester of pregnancy or in the early postpartum period. This is characterised by maternal liver dysfunction and fetal complications that lead to death.
Risk factors
Prior history of acute fatty liver of pregnancy
Low body mass index
Malnutrition
Pre-eclampsia
Fetal male sex
Multiple gestations
Pathogenesis of AFLP
AFLP is considered to develop due to the defects in the metabolism of fatty acids. Normally, an increased amount of free fatty acids are produced during pregnancy. But if there is a defect in this metabolism, it leads to liver dysfunction.
Clinical features
AFLP is usually noticed between 30-38 weeks of gestational age.
Specific symptoms during the initial stage include nausea, vomiting, fatigue, loss of appetite, and abdominal pain.
If the condition worsens, the patient will develop features of liver failure such as jaundice, altered mental status, ascites, bleeding tendency, and multiorgan failure.
Diagnosis
Blood tests are done to note bilirubin levels, serum ammonia levels, liver enzymes, renal parameters, and low platelets.
Ultrasound imaging of the abdomen shows non-specific fatty liver changes.
Also Read: Success of Liver Transplantation, post-transplant Dos and Don'ts
Management of AFLP
The patients are recommended to be managed in a tertiary care centre with facilities for a liver transplant. Liver transplantation in India has become common, and the success rate has increased greatly. AFLP patients will require a multidisciplinary team approach involving obstetricians, hepatologists, neonatologists, liver transplant surgeons, and critical care physicians.
The goal of AFLP management involves the treatment of hypoglycemia, coagulopathy, and encephalopathy. Fetal monitoring should be done, and prompt delivery should be planned as soon as the diagnosis is made.
Kauvery Hospital
In Kauvery Hospital, we have the best liver transplant surgeons and a multidisciplinary team that could effectively manage AFLP. If you notice any of these symptoms during pregnancy, make sure to consult the doctor immediately.
Liver Transplant in Chennai | Liver Transplant in Hosur | Liver Transplant in Salem | Liver Transplant in Trichy
Become a Member to post Articles
Back to Profile