Win the Credit Score Game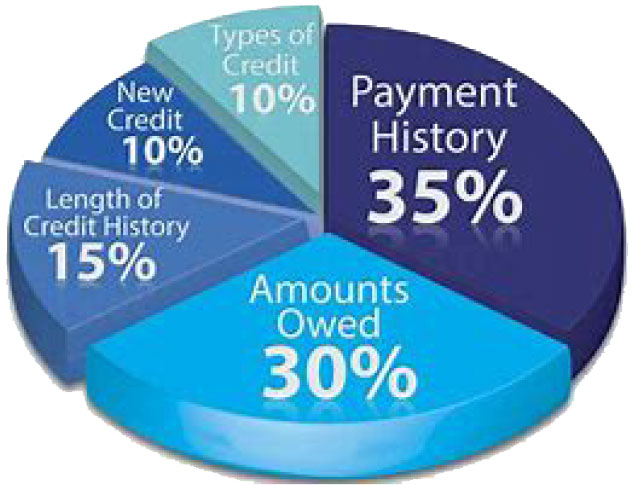 Are you familiar with what makes up your credit scores? How you manage your credit usage and account history on a daily basis has a huge impact on your scores. The above top 3 numbers have the biggest impact.
Credit scores range from 350 to 850. The higher the score, the lower the assessed risk you are to a credit provider, landlord, or possibly your next employer.
I have heard some lament that credit bureaus have control over our lives. I offer instead, that we can have great control and ability to impact how we are assessed in the credit system, and like anything else, it takes education to win the game. Scores matter because when you need to borrow, you need to borrow. The easier it is to do that the better, and higher scores make credit costs lower as well.
I'm excited to share some little‐known information to use if your scores need some help now or in the future.These are counter to our common sense and there may be a surprise factor as you read!
Amounts Owed – 30% of your scores: A focus on credit cards
Credit utilization is the percentage of your credit card limits used in a month.Credit card companies generally report your card balance to the credit bureaus monthly (reporting period). Credit reports show the high credit limit, current balance, payment history and other information.
Utilizing 30% or less of your card limit in any reporting period helps to keep your scores higher. If you have a card with a $5,000 limit and you charge $3,000 per month, you are 60% utilized. If you pay off the balance each month, chances are the $3,000 balance will be reported if your payment posts after the balance is reported to the bureaus (Equifax, Experian and Trans Union). This is common.
Timing matters. How can you make this a bigger win? Make weekly or bi‐weekly payments to your credit card electronically. You could pay $750 per week to the account, and when the balance is reported to the bureaus you are less than 30% utilized. I have had clients adopt this practice and we found that their scores increased by 20 to 40 points.
Length of Credit History – 15% of your score:
The older your credit history is the better. Acquire accounts, keep them and let them age. When you close a credit card account you remove access to credit and reduce the total credit limit available to you (utilization can become skewed in the wrong way). This can cause your scores to decrease. It is also good for your credit history to finance a car and pay it on time.
Some of my clients have one credit card, a very limited credit history, and a high credit score! They don't see a need for more accounts or to complicate life by having more. Common sense… When you demonstrate handling payments over periods of time on multiple accounts, lenders assess you as a better credit risk. You don't need 10 accounts. Three to four with longer histories is fine.
Jumbo mortgage lenders (over $726,525) have more requirements for scope of credit history. They want to see more accounts with payment histories to assess your willingness to pay the Jumbo mortgage. They want to see "account activity" in the last 12 to 24 months. The "last paid" and "last activity" dates appear on credit reports. Jumbo lenders add those up. It can help scores to use your multiple cards once or twice a year and pay them on time. It can also help you get a jumbo mortgage.
Timing Matters: If you have 1 or 2 credit cards, consider getting 1 or 2 more. A new account won't enhance credit scores initially. You need to build a payment history of 1 to 2 years.
Payment History 35% ‐ The Beauty of Paying on Time:
Late payments are reported to the credit bureaus if they are more than 30 days past due. If you have paid a late charge but have not exceeded 30 days past the payment due date, your credit record should remain clear. A recent payment over 30 days late can cause a drop in your scores of 50 to 100 points.
People can experience financial difficulties, or not pay a bill on time. It happens. If financial difficulties are big enough some ask a credit card, car loan or mortgage company to accept less than the balance due as payment in full. If they agree, there is some relief, and here is what it produces:
A Settled Account:
- When less than the balance due is accepted as payment in full it creates a "Settled Account".
‐ "Settled" appears on your credit report for that account.
‐ "Settled" means that you caused a lender to have a loss and a new creditor may decline to extend new credit to you. If it's on a mortgage, it is viewed as seriously as a foreclosure.
- You may need to establish new credit accounts to rebuild credit history. Don't give up applying. A client recently obtained 2 new credit cards (after several declines due to settled accounts) to rebuild credit so that he can buy a house in a year or so. You CAN rebuild your credit history.
Collection Accounts: These often occur due to medical bills not being paid by insurance companies and you don't know it. When you discover one, don't pay it! (Surprised?!) Paying them can cause your scores drop sharply due to recent activity on a derogatory account.
Timing matters: Mortgage lenders know that paying off a collection account can adversely affect credit scores and will normally not require borrowers to pay them off unless they exceed $2,000. If a mortgage lender requires them to be paid off we do it at close of escrow only, after the loan has been approved. Collection accounts will disappear from credit reports after 7 years.
For more on how to keep your credit in check, give me a call! ** 408‐458‐3504
Now providing mortgage lending in all 50 states! atimoney@opesdvisors.com