Power of Citations: A Comprehensive Guide to Obtaining and Utilizing Them for SEO Success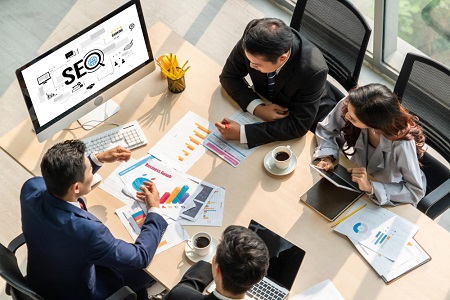 Citations are considered to be crucial to a business's local search engine ranking. But what are they and why do business owners care about getting them in places like social media and local citation sites? Do they help the business?
In this blog, we answer all these questions and more so that you understand citations and the power they hold.
What Are Citations?
To put it simply, citations are the online mentions of a particular business - the business might have been mentioned around the web like on social network platforms, local citation sites, websites, and more.
The business might be mentioned by its name or by other information that is unique to the business like its address, phone number, etc.
Mostly, when professionals refer to citations, they mention the listings of the business on different online profile directories. Most directories have the minimal option of adding a business's name, phone number, address, business timings,etc.
But a few local business directories offer more opportunities to market your business by adding additional information. For example, with LocalBizNetwork, you can add blogs, videos, and podcasts and we even manage on-page SEO for the listing. Thus, take the time to select the best and most useful business directory to add your business.
How Do Citation Sites Help a Business?
The purpose of local citation sites is to help people find the business that offers the product/service they are looking for. Listing your business with these citation sites will make it easier and faster for potential customers to find you.
Having listings in various business directories would also increase the authenticity of your business from the view of search engines. With these business listings, you have a better chance of ranking at the top of the SERPs when relevant queries are made by the person searching for the product/service.
But for the citations to help with SEO, make sure that basic details like the business name, address, phone number, and more are properly and mentioned in the listings. A mismatch of basic information can damage the reputation of your business among search engines.
---
Also Read: SEO Case Study | How We Increased Traffic for Our Client's Site | Online Profile Directories
---
How Do I Get Citations?
There are a few ways by which you can gain citations.
You can use a free tool that will help you find directories you might want to get listed in. You can check the list and then sign up with the ones that you need.
You can use paid tools that will take your listing. Your listing will then be circulated among different citation sites for which you have to pay a small fee.
There is also amost effective but time-consuming way. You can evaluate different directories manually and choose the ones that would be most relevant for your business to be listed in. You can use Google Advance Operators to make the search easier and more organized.
How to Select the Directories to List the Business In?
There are thousands of directories online, and choosing the best ones for your business can get exhausting. Here are some tips that could make your search easier and worthwhile.
Use Your Competitors
The best way to start is with your competitors. Get onto Google and search for your competitors' businesses. If you are just starting with competitor research, then search for keywords and phrases for which you would like to rank.
Check out the top results and take note of the businesses that rank and the directories from which the citations are from.
This way you could easily gain a list of the directories that might help your business. Take note of these directories and then create citations for your business in these directories.
Choose High-QualitySites
Not all citations help a business rank. You will have to gain them from trustworthy, high-quality local citation sites for them to matter to the search engines.
Checking the domain authority score of a particular site could help you understand the quality of the site. Choose the directories which have a great domain authority score and start listing your business in them.
Search for your business in these major business directories. If there is already a listing for it, claim it and check whether all the information is right. If there isn't a listing, simply create a new one.
---
Also Read: The Importance of Brand Reputation for Your Business
---
Look for Niche Sites
You will always start with giant citation sites like Yelp, Facebook, and more but don't just stop there. Do some research and find directories that are a big deal in the industry you are in. Also, gain locally valuable listings.
Do Not Neglect Unstructured Citations
Once you are finished with listing your business on all major citation sites, turn your focus onto unstructured citations.
Unstructured citations are hard to acquire but this makes them more valuable. Flesh out high-quality content which will have a better chance of getting noticed by people and being shared on different platforms.
You can share blogs in LocalBizNetwork's listing, which will help you gain more citations. You could also collaborate with influencers to get unstructured citations for your business.
LocalBizNetwork
If you want to set up an online presence quickly but have only a limited budget to do so, then we have your back. Our listings offer the best for a minimal price. Check out what we have to offer here.