Cracking the Codes to the 3-Pack Business Model by Google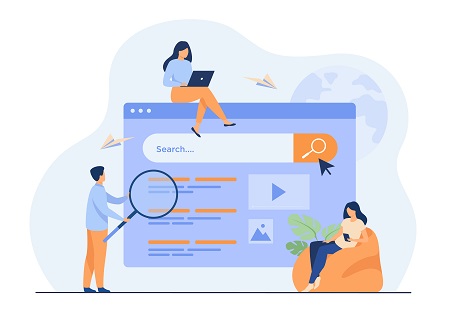 Imagine you urgently need to take your dog to the vet, but your regular one is out of town. What's the first thought that comes to your mind? You pick up your phone and search through Google! Google has taken over our daily requirements and caters to our needs with just a few taps on our touchpads.
We all make use of the Google search engine almost every day, but have you ever noticed how Google formats this page in a three-point manner? By this, I mean how Google provides us with the top 3 services based on our location and needs. This is known as the Google 3-pack model!
While we, on one hand, might have turned a blind eye towards this model, business owners certainly have not. Amongst the business circles, the Google model is well-known and business owners are constantly looking for ways to get their business listed on this 3-pack list.
But what is this 3-pack model and why does it hold so much importance? Let's have a look!
When you search for a local business on Google, the first three results that appear are known as the Google 3-pack. The Google 3-pack format displays the top results for local business searches. The 3-pack, also known as the local pack, is displayed alongside a map that shows the location of each business with basic information about each business.
Users who click on a 3-pack link are taken to a list of 20 businesses, with the one they chose at the top of the list. Users can then click on a business's link to visit its website, call the business or get directions.
---
Also Read: How to Take Maximum Advantage of Local Business Directories for Promoting Your Business?
---
Google considers both the user's query and location when determining which businesses will appear in the 3-pack. Factors include business relevance, prominence and user proximity. Only companies that have a Google Business Profile (GBP), formerly known as Google My Business, are eligible. Companies that optimize their GBP listings appear to have a better chance of appearing in Google's 3-pack.
Assume you are searching for a specific service, let's say the best parlour in Orange County. Now Google presents to you a list of services, out of which 3 make their way to the immediate results page. Here, you're able to view the top-rated services in the area with their location on the map. This is the 3-pack model of Google. For instance, if you're an owner of a parlour with a 4.9 rating in the Orange County area, and your neighbour from the same locality plans on getting a blowout and thus searches for the best services around, with your service listed at the top, it's almost assured that you can expect a client to walk into your store within a few hours.
Thus, the 3-pack model plays an essential role in helping your business grow and increasing its reach. Therefore, most local businesses aim to get into the 3 pack.
How Can a Business Owner Get Into the 3 Pack?
Though there is no organic way to make sure your business makes its way to the 3-pack, one can certainly monitor business analytics to boost their website's presence.
Here are some ways to help you navigate this model:
Check That Your Google My Business Profile Is Complete
The Google 3-pack displays Google Business Maps results. So, the easiest way to increase your chances of securing a spot on this page is by claiming and enhancing your Google My Business profile.
Google permits you to include an array of information that users will find useful, and this may indeed help you stand out from the local pack.
If you are yet to set up or claim your Business Profile, then you can simply do this by going to google.com/business, clicking 'Manage Now' and following the prompts to claim or set up your Google Business Profile.
After you've created or claimed your Google Business profile, you should optimize it. You can do this by first making sure that the information you have provided on your Google Business Profile is absolutely correct, especially your location, as this is vital information which also appears on the listing. Also, make sure that other details are correctly provided.
Make Sure That You Monitor Your Local SEO
It is important to note that the local pack model of Google is merely a part of the overall search results and hence it follows many of the same codes and criteria as any other SEO campaign. Because of this aspect, it is necessary to follow all aspects of your local and organic SEO. This in turn helps you improve your chances of ranking anywhere on Google's result page. When we take into consideration an ideal SEO strategy, what comes first is your business website. You could perhaps say that this is the first step in safeguarding your business. It's therefore essential that the layout of the website is attractive and well-equipped with important content about your business. Your metadata too must adhere to best practices.
Strive for a 5-Star Review
How often has it happened that you visit a new restaurant and you enjoy your meal, but as you set out to pay the bill you are asked to go to Google and give a review? Perhaps you'll be offered some sort of discount too on your next order.
Well, it is a common practice for service providers or business owners to ask you for a good Google review, but why so? It's because people not only want to go to a vet that is close to them, but who is also the "best" in his locality. So, for instance, today I went and googled "best dog grooming service in Worcester". Not only do I get a grooming service in my locality, but I get one with the best ratings in my Google suggestions. The deal with Google is that even if one's business is literally next door but has only a 3.2-star rating, it won't appear in the 3-pack search list. Therefore, it becomes highly essential for business owners to obtain those star ratings and reviews in order to improve their chances of appearing in the local pack and establishing a good reputation for their company.
If you are facing trouble receiving reviews organically, then you can always use a few tricks here and there. Firstly, remember what matters to you, and hence, never ever hesitate to ask your customers to give a review of the service that they received (especially from those who seem satisfied). You can also include a link that directs your customers to your Google Business Profile on your website's testimonial page to encourage customers who have read positive mentions of your company to leave a review. You can always go the extra mile to respond to these reviews, which shows that you care about their feedback and needs. It also psychologically encourages people visiting to leave their reviews too.
These are some of the steps that Local Biz Network (LBN) has taken with its clients to successfully get their businesses noticed on Google's 3-pack local model.
We worked with Rani V. Ramachandran, a client in San Jose, and her company has organically appeared on the 3-pack page with a rating of 4.9. Then, in CA, Lamberty, Pyle & Associates LLP-CPA Firm, Campbell is listed in the local 3-pack with a rating of 4.6. These are just a few of the companies we've worked with to decode the Google model and to improve their digital presence.
---
Also Read: Step by Step Guide to a good Digital Marketing Strategy
---
We have primarily discussed how to optimise your presence organically, but there is a paid method that can help improve one's digital presence and this is running local search ads.
While optimising your SEO, to make your Google Business Profile appear in the Google local 3-pack, you may want to consider a paid option to get your business listed.
Many businesses, in addition to the previous three methods, also prefer to invest in advertisements. Therefore, through local search ads, your business has an opportunity to serve a local 'Pay Per Click' ad on the Google 3-pack. Even if you opt to make use of advertisements, there are certain steps that you must take in order for your PPC ads to appear in the Google 3-pack.
- Enable location extensions in Google Ads.
- Create or improve your Google Business Profile.
- Make use of location bidding and location targeting.
- Make your keywords more location-specific.
While we are talking about and paying attention to the essential steps for climbing the 3-pack ladder, make sure you do not isolate your website during the process. The essence of a business in today's technology-dominated world is its online presence, and one's website speaks for itself. Therefore, make sure that your website has a user-friendly layout, add attractive and accurate pictures and videos for visuals, display your service and customer queries, etc. Your website should be an effortlessly pleasant experience for your potential customers as it is the first place that they arrive upon after carrying out their online search.
Having gone through the basics of the Google 3-pack business model, we hope that we have broken down the concept and idea of SEO and the 3-pack model, and it is now up to you to make calculated moves to help your business get noticed and grow!