8 Methods for Getting Your Business Noticed in Local Markets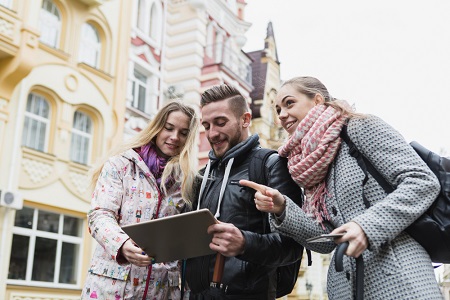 A small business is a great step towards financial independence but attracting customers is a whole different challenge. You are competing with a lot of other businesses and it takes effort to get noticed.
According to a recent survey, 92% of customers said that they would choose a local store over a chain store, given that the local stores provide better customer service. This means that local businesses still have a chance. From adding your business to directory submission sites to setting up loyalty or referral programs, here are 8 methods that can spotlight your business to the local community.
8 Methods to Capture Local Markets
Local search is the second most influential factor for a customer to decide on the store to visit. If this doesn't lay enough stress on the importance of local marketing, you should know that about 40% of all online searches are related to location. People want a hassle-free shopping experience and local stores are the best option for that.
With the right strategies and approaches, it is possible for your local business to flourish. Here are some of those strategies to consider.
1. Optimize for Local Search
This is how today's sales market works.
A person in your vicinity searches for the service that you offer.
Your business shows up at the top of the search engine results when compared to your competitors.
You get a new customer!
But if your business's name doesn't show up in the search engine results or is buried under your competitors, you will most likely lose the customer. Hence, for your business to survive, optimization for local search is important. Here's what you have to do:
Create or claim your profile in Google Business Profile (GBP)
Sign up for small business listings with quality directory submission sites
Include accurate information about your business
Regularly update the listings
With LocalBizNetwork, you can add videos, blogs, and more to your small business listing. Your listing would be equivalent to a mini website and can even be used as a landing page for your marketing campaign.
---
Also, Read 5 Ways You Can Improve Your Business' Visibility on Google Maps
---
2. Social Media Is Your Friend
Internet influences customers nowadays and therefore you need to make sure that your business shows up everywhere. Apart from small business listings, create accounts with social media sites like Facebook, Instagram, LinkedIn and more.
You can also look for social media sites that are trending in your locality and create accounts on them. Enter accurate information with photos that are consistent through all these profiles since it builds trust and authenticity for your business.
3. Never Ignore Content Marketing
Do a random search on several businesses offering the same service. You will note that businesses without blogs, videos and other content are overshadowed by businesses that have quality content. To place your business in the line of sight of the local communities, here are some tactics to try:
Find local keywords and target them
Hire guest bloggers who are popular with the local community
Focus on local content
Post user-generated content
Attend local events and write about them
4. Get Popular Within the Community
A familiar face instantly gives you an advantage. Get out there and participate in local events. Introduce yourself to people and get to know them.
You can volunteeror sponsor these events which will help you gain a reputation in the local community. This reputation will easily transfer to your business and in no time, you will notice an increased inflow of customers.
5. Consider Special Deals and Promotions
This is a very powerful technique especially if you are a new small business. Loyalty isn't built in a day and you need to give customers enough time for it.
With special deals and offers, more people will be open to trying your product or service. If they are impressed with the quality and service, then they might come back even without the offers.
Also, offer seasonal deals which will ensure that you remain in the minds of your customers.
6. Use Locally Targeted Ads
It's 2023 and the distribution of flyers is no longer the best approach. People are glued to their cellphones and it is probably the best way to effectively capture their attention.
Include digital ads in your marketing campaign by which you can target specific local audiences. You can choose search engine marketing ads that will help your business show up at the top of the SERPs when a certain term is searched. The next option is to choose cost-per-click or pay-per-click ads on popular platforms like Facebook, Yelp and more.
Designate a budget for these ads and promote your business in key areas to get better results.
7. Don't Forget Email Marketing
Email marketing remains a powerful strategy that can convert leads into customers even today. Include sign-in forms or CTAs to your website that will get you the email list of the local customers.
The next step is to set up a direct mail campaign for your target market. This is a strategy that requires little money but gives high returns.
---
Also Read: 12 Most Important Tips for an Effective SEO Strategy
---
8. Set up a Loyalty and Referral Program
Despite the menu price increase, Starbucks saw a boosted revenue of about 24% this year. How?It was thanks to the Loyalty and Rewards program.
Active Starbucks Rewards membership grew from 3.2 million to 27.4 million! That is a noticeable increase. The Rewards program is aimed at long-term revenue rather than immediate profit. With the Rewards program, Starbucks ensures that its customers come back for more.
With the help of loyalty and referral programs, you can retain existing customers and also gain new ones.
LocalBizNetwork
Small business listings coupled with an opportunity to post quality content means you target two birds with one stone. With LocalBizNetwork, you can add blogs, videos, and podcasts to promote your business and all of that at a one-time price! Visit us here to know more about the listing options.