5 Strategies That Can Help in Link Building for Local SEO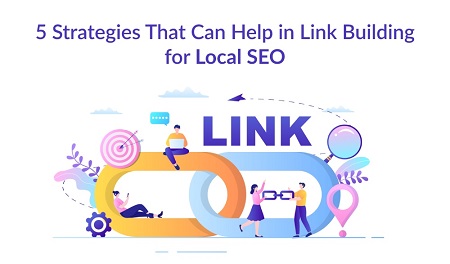 Backlinks are vital for your business to rank high in the SERPs. There is no counterargument to that. But how do you acquire these links? Link building, especially for local SEO, will make you reach local customers by boosting your Google search ranking. There are many ways to build links like adding your business to relevant local profile creation sites, creating local content and more.
Why Are Local Link-Building and Local Citations Important?
The number of searches that include "near me" has been constantly on the rise. People research a local business online to know information that is otherwise hard to obtain. Hence, it becomes mandatory for local businesses to rank in the local search.
Local link building can help your business achieve the top spot in the SERPs. When you get links from relevant sites, it increases the organic traffic to your website. After you have gained backlinks from quality websites, your top-ranking dream is not so far of. It gives your website a sense of authenticity and hence it ranks higher in local searches and map packs.
Local citations include online mentions of your business details in websites, apps, local business directories and more. Local citations also impact search engine rankings when it is claimed.
---
Also Read: How to Rank Your New Website?
---
Link Building for Local SEO
Backlinks are recognized as one of the major ranking factors for local SEO. But you just cannot go collecting links from random websites. These websites have to be relevant to your business and it would help if they are trusted by Google. You will need a well-designed strategy to see desirable results.
Before Charting out the Strategy
Before you start to work on your link-building strategy, you must ask yourself some questions.
What is my ultimate goal for this strategy?
Who is my target audience?
What are my target sites to gain backlinks?
Is my content perfect for gaining backlinks?
When you have clear answers to these questions, link-building becomes a lot easier.
Link Building Strategies to Follow
Create an end goal in your mind and formulate your link building strategy according to it. Here are some ideas to add to your local link building strategy.
1. Feature Your Business in Review Websites
When buying a product, majority of the people make a decision based on reviews. 85% of the people are satisfied only with a high-star rating.
Reviews on your website are great but reviews about your product on a trusted third-party website will convince the customer better. Positive reviews on these websites can increase organic traffic to your website and increase the ranking manifold.
Ways to Get Customer Reviews
Find local review and travel sites and add your business to them.
Encourage your customers to leave reviews about your product with an incentive.
Post customer testimonials on your social media account and encourage people to talk about them.
Deal with negative comments calmly and try to resolve the issue.
More than 90% of people use local directories to find businesses near them. When you add your business to these profile creation sites, you get quality backlinks since these directories are already recognized by Google.
Find directories that have good domain authority and also check the features they have to offer. You need to add your business details to these sites and be accurate with them. Use similar data for all of your profiles since it adds credibility to your business.
Most business directories allow businesses to add nothing more than basic information like address, phone number and website name. But with an LBN business profile, you get the chance to do much more. You can add photos, videos and even blogs related to your website. You can use this business listing as a mini-website to attract your clients.
How to create a Business Web Page in minutes
3. Check Backlinks on Your Competitor's Website
This is a smart approach to finding backlinks that are relevant to your business. If you are link building for local SEO, then do competitor research. You will now find websites that you can pursue for gaining backlinks.
Also, check for unlinked brand mentions and reach out to them to gain backlinks. This will help build local relationships and with this comes increased popularity.
4. Hold Special Events and Work to Get Mentioned in Local Blogs and Publications
Popularity is the key and thus create new events with it as the goal. Go with ways that will make target audience take note of your business. For example, you can:
Hold a contest
Run a workshop
Offer seasonal discounts
Sponsor a local team
Work with a local guest blogger
You should advertise these activities, especially on social media. You can use a press release with relevant keywords and a URL for the backlink to get the attention of local publications and bloggers.
---
Also Read: Why Do You Need Infographics in Digital Marketing?
---
5. Include Local Topics in Your Content
Blogs help increase customer trust and visibility for your brand. Always aim for high-quality content that will be useful for your customers. For gaining local links, try to focus on some hot topics in the neighbourhood. When people find your content engaging, they link back to it. Share your blogs on social media and post regularly.
With an LBN business profile, you can even add blogs. Quality content curated with high-ranking keywords posted on a website with high domain authority will easily rank high in the SERPs.
LocalBizNetwork
Gain quality backlinks by adding your business to our directory. We offer the best features for your business to rank higher – all with a one-time payment. Interested in knowing more? Visit us here