Why Is Brand Reputation Important for Your Business?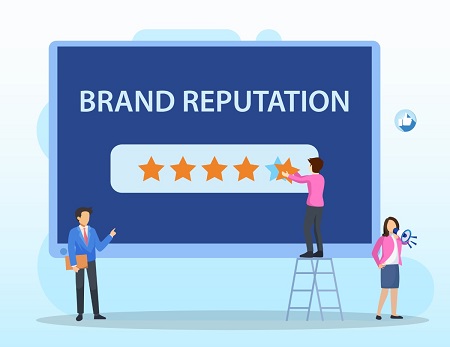 Sometimes, we hear entrepreneurs ask, "Why does brand reputation matter when you have good products/services?"This is indeed a good question but an outdated one in the online business world. Brand reputation is like a person's character and it greatly influences customer decisions. Starting from creating a start-up listing in local small business directories to bettering customer experience, there are various ways to boost your brand reputation.
A positive brand reputation can do wonders for your business. If you still have doubts about how brand reputation influences your business performance, then this blog is for you.
What Is Brand Reputation?
Brand reputation is how people perceive your business and it is influenced by many factors such as product quality, customer service, and more.
A good brand reputation will shed a positive light on your business and people will view it as being reliable and trustworthy. This naturally influences people into making positive buying decisions.
How Has Brand Reputation Changed over the Years for Businesses?
Decades ago, a start-up had to wholly depend on word-of-mouth marketing to gain customers. Then came newspaper ads, TV ads, and more.
Today, a business's image is mostly online. About 90% of people check out a business online before they decide to buy the products/services. Hence, it is now mandatory for businesses to be active online and also find ways to gain a better brand reputation.
First, you need to establish a solid online presence. Our recommendation is to create listings in start-up directories, especially if you don't have a website. This makes it easy for customers to find your business online.
Next, you need to focus on marketing your brand. Post articles, videos and other content that will attract customers to your brand. Establish what you have to offer without exaggeration as this greatly helps in building trust as well as a positive brand reputation.
Ask for reviews from your customers and post them on your website. Reviews and testimonials are proven ways to influence future customers' decisions.
With LocalBizNetwork, you can do it all with one listing. You just have to create a listing with our local small business directory which will not only give you an online presence but will also act as a platform to post videos, images, podcasts, articles, and reviews. You can even use the listing as the landing page for your ad campaigns.
---
Also Read: Developing a Strong Online Presence for Start-ups
---
Why Is Brand Reputation Important?
Having a good brand reputation influences every aspect of business operations. Here are some reasons why you should consider investing in building your business's brand reputation.
A Good Reputation Equals Trust and Credibility
With trust, you gain a bunch of loyal customers who will stick with your brand even in times of crisis. Customer loyalty is a big advantage to gain, especially if you are a start-up competing with well-established competitors. Even during economic crises, you can rely on these customers to stay with your brand.
A Good Reputation Can Increase Financial Performance
Customer loyalty means booming business. Your customers are going to buy again and again, given that you maintain the product/service quality. And they also bring in new customers through recommendations. All these factors increase the profitability of your business.
It Can Bring in New Customers
We already know that gaining a new customer costs more than retaining an old customer. But what if the old customer does the work for you and that is too cost-free? With a good brand reputation, gaining a new customer is as easy as that!
About 61% of the customers say that they will recommend a brand they trust to their friends and acquaintances. On average, a single customer impressed by your services can bring in about 9 new customers. This is money saved for you on marketing.
---
Also Read: Overcoming Entrepreneurial Hurdles: 4 Common Challenges Faced by Entrepreneurs and How to Overcome Them
---
A Good Reputation Helps with talent Acquisition and Talent Retention
No one wants to work for a brand with a bad reputation. A prospective employee views the business in the same way as the customer and if your business has a bad reputation, it will be harder for you to attract top talent.
The employees want to feel proud to be associated with a brand and of course, a good package is also important.
A Good Reputation Helps in Business Growth
With a good brand reputation, the market value of your business goes up. This makes investments easier to gain.
Also, about 57% of the customers will try out new products from the brands they like. With loyal and happy customers, you have a better chance of successfully expanding your business.
LocalBizNetwork
Boost your online presence and brand reputation with our small business directory. To know more about the listings available, visit us here.