Top Termite Control Companies in San Francisco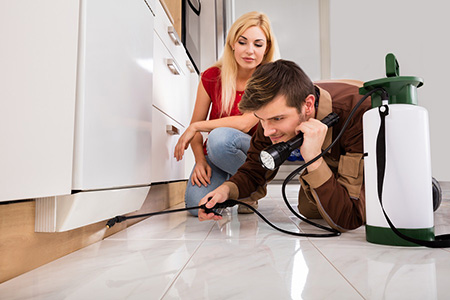 Termites can be a nightmare for homeowners if not adequately controlled. Termites can cause severe damage to the internal structure of your home, costing thousands of dollars to repair. In most cases, homeowners are not even aware of the termite infestations. It can go undetected for years, hidden behind floor coverings, walls, and insulation, and sometimes even inside exposed wood as the outer surface usually remains intact. Getting rid of termites requires a special skill, utilizing specialized equipment, and most importantly, knowledge of construction to identify critical areas. Leave the termite control to the professionals. Here are some top termite control services in the San Francisco Bay Area, CA.
Hi-Tech Termite Control is a diamond-certified company that provides its services in San Jose, San Francisco, Santa Clara, Pleasanton, and Oakland for commercial, industrial, and residential properties. They use a combination of traditional and advanced technology and environmentally-friendly, state-approved chemicals to control and eliminate termites. Their microwave technology is clean and efficient. In addition, they provide a three-year warranty with the primary and secondary treatment for all species of termites and wood-boring beetles. They provide non-fumigation termite control, fumigation pest control, termite damage repair, pre-treatment, and escrow inspection.
ATCO Pest Control claims to be the longest-standing diamond-certified pest control company in San Francisco, servicing commercial and residential properties. They provide quality pest control in the San Francisco Bay Area and parts of Southern California, customizing their treatments based on the bugs in an eco-friendly, sustainable manner. They have multiple eco-friendly certifications, including IPM and EcoWise. Apart from termite treatment, they also provide flea and tick control, pest control, gopher and mole control, bed bug treatment, and rodent control. They are a family-owned company with over twenty-three years of experience in the industry, taking pride in their "common sense" approach, prioritizing long term-solutions over quick fixes.
Proven Termite Solutions is also a diamond-certified company that places excellence and sustainability over anything else. They service residential and commercial clients in Santa Clara, Alameda, and San Mateo counties using the latest technology in equipment, well-maintained vehicles, and the most effective termiticides. They value continuous education and training to keep up to date on all the latest technology to serve their customers better. They attribute their success to their ability to keep all the processes of termite control in-house without relying on sub-contractors. They provide a three-year guarantee with every complete treatment.
Pacific Coast Termites serve residential and commercial properties all across California. It is a family-owned diamond-certified business. In addition to infestation removal, like for termites, they also offer preventive pest control treatments to avoid problems that may arise in the future. They abreast with all the latest termite treatments utilizing specifically the XT-2000 Orange Oil Plus Treatment, a plant-based, naturally occurring, and renewable substance that is safe and environmentally friendly. They provide a two-year warranty on all their termite treatments. They pride themselves in being consummate professionals, protecting and caring for their customer's homes.
Elite Bay Area Termite Control provides its services to residential, commercial, and industrial properties in the Bay Area. They are a diamond-certified company with a philosophy of workmanship, providing high-quality work and eradication of infestations at reasonable prices. They uphold rigorous standards that keep customers satisfied. They utilized both traditional and non-chemical methods like their own Elite Bay Area Termite's High-Pressure Injection System, making the experience for the customers as smooth as possible. They credit their success to their customer-oriented business approach, treating each property with the utmost respect.
If you run a termite control company in the Bay Area, you can add your business to the LBN Marketplace. LocalBizNetwork has been an active global directory for small businesses since 1999, with more than 100,000 registered companies.
Our listings don't just offer backlinks but include features where you can: Post Unlimited Articles, Post Job Openings, Post Offers/Specials, Manage On-page SEO, Add Social Media Links, List Products/Services, & a lot more!