Why Is Online Visibility Important and How Is It Different from Online Presence?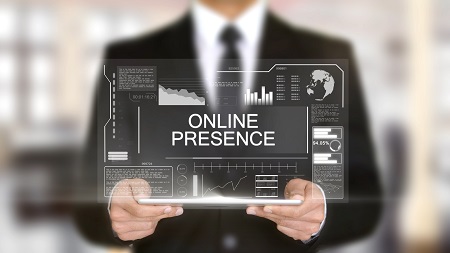 Online visibility and online presence are two terms that are often used interchangeably, but they actually have different meanings. In this blog, we'll explore the differences between the two and why it is important for businesses to understand the two terms.
Online Visibility
Online visibility refers to how easily your website or online content can be found by search engines and internet users. It is a measure of how visible your business is online, which can be impacted by factors such as search engine optimization (SEO), social media marketing, online advertising and content marketing.
Online visibility is important for businesses because it can help increase website traffic, generate leads, and ultimately, drive revenue. If your website cannot be found easily by potential customers, you may be missing out on valuable opportunities to grow your business.
Factors That Impact Online Visibility
Search Engine Optimization (SEO): This refers to the process of optimizing your website and online content to rank higher in search engine results pages (SERPs). SEO involves optimizing your website's structure, content and keywords to make it more attractive to search engines like Google.
Social Media Marketing: This involves using social media platforms like Facebook, Twitter and Instagram to promote your business and engage with your audience. Social media can help increase your online visibility by generating buzz around your brand and driving traffic to your website.
Online Advertising: This involves using paid advertising to promote your business online. Platforms like Google Ads and Facebook Ads can help increase your online visibility by placing your ads in front of potential customers.
---
Also Read: How are Data and Empathy key to great Marketing?
---
Online Presence
Online presence refers to the overall image or perception of your business online. It is a measure of how well your brand is represented across all digital channels, including your website, social media profiles, online reviews and other online content.
Online presence is important for businesses because it can impact how potential customers perceive your brand. If your online presence is strong, it can help build trust and credibility with your audience, which can lead to increased customer loyalty and sales.
Factors That Impact Online Presence
Website Design: Your website is often the first impression that potential customers will have of your business. A well-designed website that is easy to navigate can help build a strong online presence.
Social Media Profiles: Your social media profiles should be consistent with your brand identity and messaging. This can help build a strong online presence and make it easier for potential customers to find and engage with your business.
Online Reviews: Online reviews can have a big impact on your online presence. Positive reviews can help build trust and credibility with potential customers, while negative reviews can damage your reputation.
---
Also Read: How to Create a Vision Board for Your Small Business?
---
The LBN Business Profile
An LBN business profile is an online platform designed to help small businesses and start-ups build a strong online presence. For small businesses, the platform offers great online visibility by allowing them to showcase their brand, products and services on a professional profile. This can help them attract new customers and increase sales. With an LBN business profile, small business owners can also connect with other businesses and potential partners, creating valuable networking opportunities.
For start-ups, an LBN business profile can help establish a good online presence. When starting out, it can be challenging for new businesses to build a strong online reputation. However, by creating a professional profile on LBN, start-ups can showcase their brand, team and products or services, which can help establish credibility and attract investors or customers.
Overall, an LBN business profile is a useful tool for small businesses and start-ups looking to improve their online presence and visibility. It offers a range of features and benefits that can help businesses reach their goals and succeed in the competitive online marketplace.