How Should Small Businesses Change to Survive the Pandemic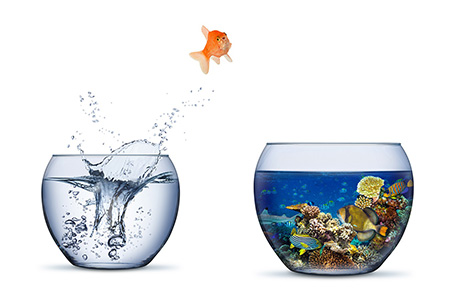 All business owners understand the unpredictable nature of running a business, adapting, evolving, and thriving according to circumstances around them. However, the COVID-19 pandemic caused instability in almost all industries, whether a Fortune 500 business or a small business. No one was prepared for the wide-scale impact that resulted from the measures taken to stop the spread of the virus.
Small businesses, regarded as the backbone of the U.S. economy, were impacted the most, with some having to shut temporarily and some permanently. According to data released by Yelp, 60% of businesses that were closed were not going to reopen. The effect of the pandemic has had a disproportionate impact on a few industries. According to a report by SMB (Small and Medium Business) Group, 29% of the respondents who participated in their survey reported that the pandemic had an extremely negative effect on in-store/in-office traffic, particularly experienced in retail, hospitality, and personal services industries.
Ultimately the effects of the pandemic in the long term may seem bleak and helpless, but there are means by which small businesses can adapt to the new normal, prepare for the future, and survive the pandemic.
---
Read Also: 15 Small Business Ideas That Do Not Cost Money
---
Organizational Agility
Organizational Agility means the ability of an organization to renew itself, evolve or adapt to a rapidly changing, tumultuous environment by combining speed and stability. It requires the organization to be flexible, customer-centric, have stable team dynamics, and possessing a growth mindset. While this had already been central thinking in many businesses, it had now become essential for survival.
Agility can be achieved with a concerted effort to change the mindset. Many organizations utilized agile principles during the pandemic to produce a radical change for their businesses. Processes and systems keeping in focus the ability to be agile have aided many organizations to be flexible, adapt to remote working, digitize processes and create systemic change through cooperation across all facets of the organization. Businesses must learn how to pivot, develop new strategies… be it changing their platform from software to an app, or change their business model.
Digitization
Over the years, it is understood that businesses should be transforming digitally, but only some have devised and implemented the strategy for it. However, with nationwide lockdown and other preventive efforts taken to restrict the spread of the pandemic, businesses have been forced to speed the process of digitizing up. This shift is imperative to keep up with customer preference for digital engagement as well. The likelihood of remote working models for employees continuing for a while post-pandemic also requires businesses to adopt digitization. It is not merely a temporary solution but a change in cultural mindset for employers and employees to benefit from the business model creatively evolving.
Business Spending
With the pandemic, businesses need to re-evaluate how they are spending their money. It could be converting print ads to digital, investing in digital marketing as customer engagement has shifted to virtual market space. There are so many areas upon close examination that businesses can make cost-effective changes and optimize their business spending. Reducing spending is the most impactful way to make changes in uncertain times.
Social Media
It is no longer viable for businesses to exist on social media. Social media provide the opportunity to share the vision and mission of your organization with your loyal customers. Engagement over social media is one of the best ways to foster relationships with clients. Apart from just posting creative social media posts, companies should look to interact with their customers. Liking and replying to comments on posts and following back go a long way in creating relationships. According to the Global WebIndex, just more than half of the world's population uses social media, spending on average two hours and twenty-five minutes daily. Companies should utilize their time wisely to maximize their efforts on social media. Social media marketing is a good investment for companies to make, looking forward to a new way of business.
Work Environment
The pandemic has had a tremendous impact on mental health. Whether the extra responsibilities of homeschooling, lack of child care, or just fear and anxiety surrounding the pandemic, it has become crucial for companies to heed to the needs of their employees. The stress of the pandemic on individuals and families alike is still being revealed. In a survey conducted by the Kaiser Family Foundation, in the U.S., 4 in 10 adults reported symptoms of anxiety and depression with specific negative impacts relating to difficulty in sleeping or eating, increased alcohol consumption or substance use, and worsening chronic illnesses. Companies should create a safe space for employees to address some of the issues that have cropped up due to the pandemic.