List of Top 10 Hospitals in Chennai
India is leading in number of hospitals and clinics when compared to any other country in the world. This is a requirement considering the large population of our country and the basic healthcare needed for it. Chennai is one of the busiest metropolitan cities, and thus it goes without saying that some of the best multi-speciality hospitals providing quality medical care and facilities are present throughout the city.
More the number of options, longer it takes to choose the best option. While choosing the best multi-speciality hospital, you should consider a lot of factors. There might not be much time and patience for people to find the best one, especially in times of emergency. Thus, we have curated a list of the top 10 hospitals which can make your decision easier.
1. Kauvery Group of Hospitals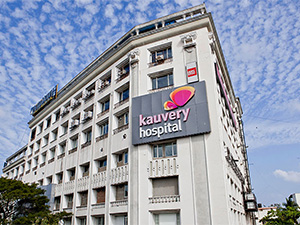 Kauvery Group of hospitals is a leading multi-speciality healthcare institution that has been a pioneer in the medical industry for nearly 2 decades. The excellent infrastructure with 1200+ beds and medical care offered by the institution are par with the global standards and benchmarks of the best institutions all over the world.
Kauvery hospital has been awarded many prestigious awards. Some of them include 1) Full-Scale Emergency Exercise presented by the Airports Authority of India and 2) award for cardiology and cardiothoracic surgery presented by Times Healthcare Achievers, Tamilnadu.
Patient satisfaction and affordable treatments are some of the other factors which make Kauvery hospital top the list. It is among the few hospitals that have easy access to an online portal to book an appointment or get a teleconsultation call.
Address: No.199, Luz Church Road, Mylapore, Chennai.
Branches: Trichy, Hosur, Salem, Bengaluru
Phone: 7338738886
Website: kauveryhospital.com
2. Apollo Speciality Hospital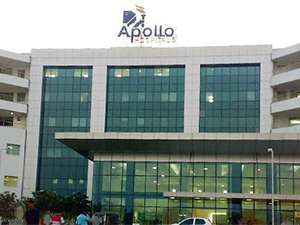 Apollo has been a popular name in the healthcare industry all over South India, and the Apollo hospital in Chennai is the flagship unit of Apollo Health Care Limited. The long list of medical disciplines like paediatrics, neuroscience, plastic surgery, and many more attracts patients even from different countries.
Apollo hospital has bagged many awards and is also well known for the excellent corporate health services offered. Customized health check packages and modern-day emergency care are some of the factors that add extra points to its excellence.
Address: 21, Greams Lane, Off Greams Road, Chennai and more branches.
Branches: Trichy, Madurai and many other states.
Phone:044-28290200 / 044-28293333
Website: apollohospitals.com
3. Gleneagles Global Health City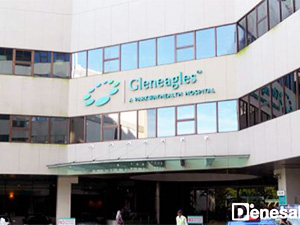 Gleneagles Global Health City, with its sprawling 21-acre land, undoubtedly is one of the largest medical facilities in Chennai. World-class infrastructure aided by expert medical professionals has made it one of the most preferred facilities for healthcare in the city.
Gleneagles Global Health City is the most preferred hospital for multi-organ transplant since it has undertaken several path-breaking organ transplant procedures. It is also one of the several hospitals which have international and national level accreditations.
Address: 439, Cheran Nagar, Perumbakkam, Chennai - 600 100
Branches: Hyderabad, Bengaluru, Mumbai
Contact: 044 4477 7000
Website: gleneaglesglobalhealthcitychennai.com
4. Fortis Malar Hospital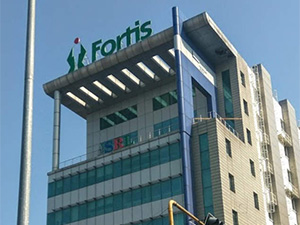 Fortis Malar Hospital, formerly known as Malar Hospital, was inaugurated in 1992. With ultra-modern lab facilities and well-equipped operation theatres, it has grown to be one of the best multi-speciality hospitals in Chennai.
With expert doctors, aided by a dedicated pool of nursing and supporting staff, the hospital provides the best medical care. Help for travel arrangements and accommodation are provided for international patients.
Address: No. 52, 1st Main Road, Gandhi Nagar, Adyar, Chennai – 600 020
Branches: Mumbai, Bangalore, Mysore, Kolkata and many more destinations
Phone: +91 9962599933 / 04442892222
Website: fortismalar.com
5. MIOT International Hospital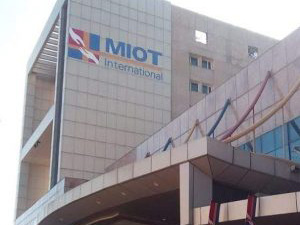 Madras Institute of Orthopaedics and Traumatology, popularly known as MIOT, has been one of the leading healthcare providers in Chennai. The institution was started in 1999 and initially focused only on orthopaedics and trauma care. Later due to the increasing demand and need of the patients, it was expanded to be a multi-speciality hospital.
MIOT boasts of the best talent along with the latest medical technology with astounding infrastructure surrounded by lush greeneries. MIOT has a proven record of some medical innovations like performing the first hip replacement surgery and kidney transplant across blood groups.
Address: 4/112, Mount Poonamalle Road, Manapakkam, Chennai - 600 089
Phone:044 42002288
Website: miotinternational.com
6. Madras Medical Mission Hospital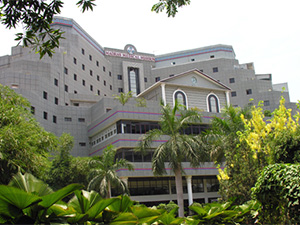 Madras Medical Mission Hospital, also known as MMM, is a world-famous institution that is promoted by the members of the Chennai Diocese of the Orthodox Church of India. The combination of excellent infrastructure, dedicated medical practitioners, and prudential management has been known to provide the finest results and patient satisfaction.
MMM is well known for its cardiology department but also has advanced medical provisions for other medical disciplines like reproductive medicine, gastroenterology, and such. The healthcare provided by MMM is known to be affordable, and it also holds the record for performing the largest volume of surgeries and cath procedures for a not-for-profit organisation.
Address: 4-A, Dr, Mogappair, Chennai, Tamil Nadu 600037
Branches: Pondicherry (PIMS)
Phone:1800 123 599 999
Website: madrasmedicalmission.org.in
7. SRM Institutes for Medical Science (SIMS)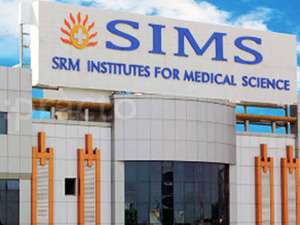 SIMS is one of the fast-growing multi-super speciality hospitals that offers advanced tertiary healthcare services. The modern infrastructure along with the patient-friendly facilities and serene environment gives you the privacy and space you need for complete recovery.
Following in the footsteps of SRM group SIMS always strives to achieve trust and excellence. SIMS attracts patients from all over the world for its medical services especially for the state-of-the-art multi-organ transplants. Their rapid adoption of the latest technology in medical area along with the finest clinical talent has made them a formidable contender in the medical industry.
Address: No.1, Jawaharlal Nehru Salai, Vadapalani, Chennai.
Branches: Nungambakkam, Anna Nagar – Chennai, Salem.
Phone: 91 4449211455
Website: simshospitals.com
8. Sri Ramachandra Medical Hospital (SRMC)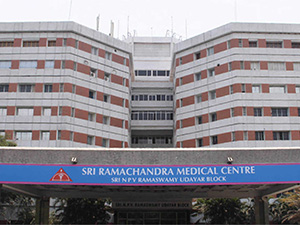 SRMC is a tertiary-care multi-speciality hospital that was founded as a teaching hospital of Sri Ramachandra Medical College. The outstanding reputation has been unshakeable for over two decades.
SRMC has been aiding the needs of both urban and rural population and has upgraded its services in tandem. Some specific services like psychotherapy, hypnosis, and round-the-clock dialysis have made the institution a formidable competitor in the healthcare industry.
Address: No.1 Ramachandra Nagar, Porur
Chennai, Tamil Nadu,
India 600 116
Phone: 044 45928500
Website: sriramachandra.edu.in
9. Vijaya Group of Hospitals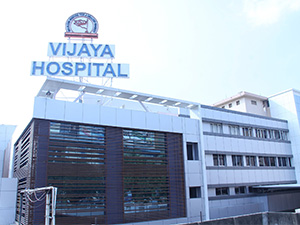 Vijaya hospital, which is the flagship hospital of the Vijaya Medical and Educational Trust, was founded by Shri. B. Nagi Reddy in 1972 and has been providing quality medical service to the community ever since. The National Board of Examinations has recognised Vijaya hospitals to conduct DNB programs.
The hospital located in Vadapalani is a multi-speciality one, but there are also speciality units like Vijaya Heart Foundation, Vijaya Eye Foundation, and many more around the city. Vijaya hospital is well known for its latest medical, surgical, and allied speciality services that are being constantly upgraded according to the developments in medical care.
Address: New No:434, Old No:180, NSK Salai Rd, Vadapalani, Chennai, Tamil Nadu 600026
Phone:044 6664 6600
Website: vijayahospital.org
10. Dr. Kamakshi Memorial Hospitals
Dr.Kamashi Memorial Hospitals is a tertiary health care provider located in Pallikaranai and is recognised as one of the national forerunners in the healthcare industry. Dr.Kamakshi Memorial Hospital boasts of an impressive infrastructure and highly educated and globally trained specialists who offer holistic 24-hour medical service.
Dr.Kamakshi Memorial Hospital is NABH – PEH accredited by the National Accreditation Board for hospitals in 2018. An all-in-one new multi-speciality hospital was started in Medavakkam recently in November 2019.
Address: 1, Radial Road, Dandeeswarar Nagar, Rose Avenue, Pallikaranai, Chennai - 600100
Contact:04471200200
Website: vijayahospital.org
---
This list is created based on the patient reviews, institution achievements, and the quality of the service provided by the hospitals. There might be a difference of opinion based on the individuals. Feel free to include your views on the list in the comments section.