A Guide to Niche Marketing for Small Business Owners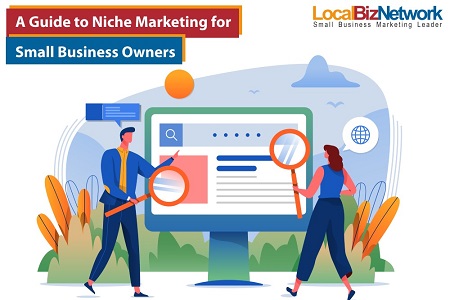 Introduction:
For small business owners, the key to success lies in attracting and retaining customers. While there are various marketing strategies available, targeting the right audience is crucial. This is where niche marketing comes into play. In this guide, we will explore the concept of niche marketing and its importance for small businesses.
What Is Niche Marketing?
Niche marketing refers to the practice of targeting a specific group of individuals who are more likely to become customers. This approach is particularly valuable for small business owners with limited advertising budgets, as it allows them to focus their efforts on a smaller, more receptive market segment. By honing in on a niche, you can maximize customer acquisition within that group.
Understanding Niche Markets:
The first step in niche marketing is identifying your target niche market. Several factors can help you pinpoint this subset of potential customers. Consider demographic characteristics such as geographic location, age, gender, interests and income range, as well as factors like product quality and price preferences. By understanding these categories, you can better comprehend what influences their purchasing decisions. Once you have identified your niche market, it becomes easier to uncover their needs and requirements. In some cases, you may even consider tweaking your products or services slightly to better cater to their preferences.
---
Also Read: Overcoming Entrepreneurial Hurdles: 4 Common Challenges Faced by Entrepreneurs and How to Overcome Them
---
Examples of Niche Marketing:
Niche marketing has proven successful for businesses of all sizes. Here are a couple of examples to illustrate how it works:
Nike:
Nike, primarily known for its footwear, has found success by targeting the niche market of sports enthusiasts and gym-goers. They market their shoes as comfortable and suitable for intense workouts and running. Recognizing its niche market, Nike has expanded its product line to include clothing items like sports bras and shorts, further resonating with their target audience.
Lefty's:
Lefty's, a company that specializes in products for left-handed individuals, has tapped into the relatively untapped market of left-handed consumers. By creating items such as kitchen utensils, scissors and notebooks specifically designed for left-handed users, Lefty's has successfully catered to the unique needs of this niche market.
---
Also Read: Expert Tips to Improve the Local Ranking of Your Business
---
Benefits of Niche Marketing:
Adopting a niche marketing strategy can provide several advantages for your business:
Less Competition: By targeting a specific group, you face less competition, especially when your product or service meets their specialized needs.
Deeper Understanding of Customers: Niche marketing allows you to gain better insights into your customers' needs and wants, enabling you to develop tailored solutions and build stronger relationships.
Efficient Marketing Spend: Niche marketing ensures that your marketing budget is directed towards the right audience, resulting in more effective and cost-efficient campaigns compared to mass marketing.
Loyal Customers: When customers feel understood and their needs are met, they are more likely to become loyal advocates for your brand, leading to repeat business and referrals.
Conclusion:
Niche marketing is a valuable strategy for small business owners looking to optimize their marketing efforts to attract the right customers. By identifying and targeting a specific niche market, you can gain a competitive edge, better understand your customers, and cultivate loyal relationships. Embrace niche marketing and witness the positive impact it can have on your business.
LocalBizNetwork:
Enhance your local marketing efforts by listing your small business on LocalBizNetwork, an online profile directory that effectively advertises your business to the local market. To learn more, visit our website here.