Email Marketing Never Goes Obsolete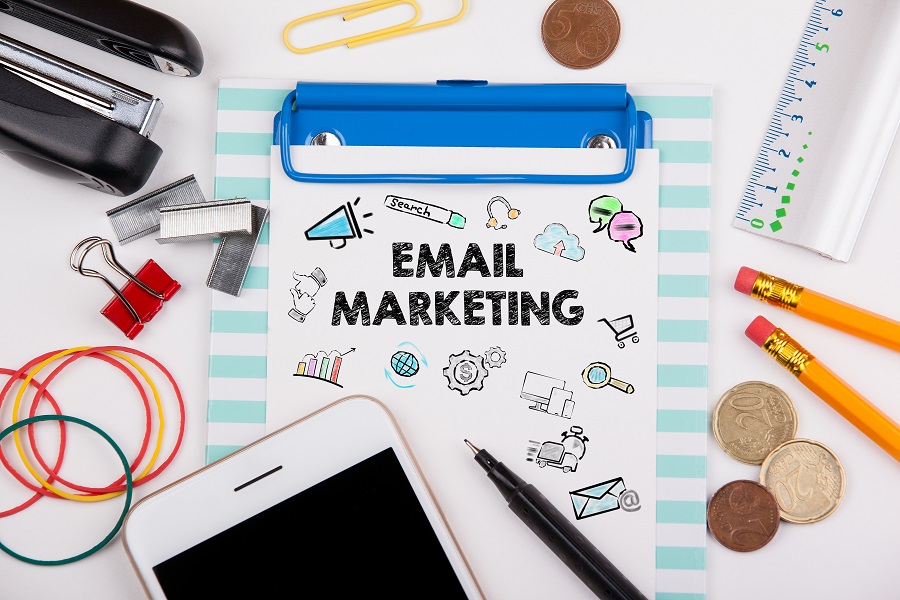 There are seven channels to digitally, market your business, products, and services. They are:
1. Email Marketing
2. Mobile Marketing
3. Online Display Advertising
4. Responsive Websites
5. Search Engine Marketing
6. Social Media
7. Video
Using any or all of these channels, the goal of a business is to engage and communicate with existing markets, customers and potential customers. The ultimate goal of any business is to increase the customer base and reach, build brand image, generate and convert leads, to increase return on investment.
Though Social Media plays a large role in creating a wide reach for businesses, the vast majority of consumers and businesses prefer communicating through email. The reason why email marketing is still the most effective marketing tool is because, it is permission-based, as people sign up for it, has the organic reach every business requires, less time consuming especially for small businesses that are stretched for time, it is small budget-friendly, and over and above every other reason, the people on your email marketing list are interested and want to hear from you about your promotions and discounts. 72% of consumers (as per a study conducted by Marketing Sherpa report) prefer to receive promotional messages through email and many businesses also find that 60% of their success results were because of their email marketing efforts.
Read Also: Why Purchased Email Lists Are A Huge No-no For Marketers
A lot of thought, planning and structuring the content is required to write an email that evokes positive results. There are two ways you can choose to adopt for your business. You can either send personalized emails or create an email campaign. You can opt for either or both. Regardless of which method you do choose, the process of creating that productive email requires a methodical approach. The Step by Step Guide below will walk you through on how to, write an email that will generate potential leads, help build and maintain a database, help increase traffic, capture the attention of the potential consumer and keep them engaged, and finally laying an emphasis on the importance of follow up to keep your communication channel alive and productive.
Step By Step Guide to Email Marketing
Step 1: Before you begin to write the content for your email, the first step is to build an email list. Maybe to begin with you do not have a large database or list of email addresses. Start your mailing list either by keying in the information into a computer management system or use an excel worksheet to keep your list intact and make sure you update it, frequently. To gather email addresses, you could request your customers to sign up with their genuine email address, or you could make a free offer to those who sign up to receive your promotional messages.

Step 2: As your email list grows, you will need to store the information in an easy to use and access system. There are email campaign tools available for this purpose. You can choose a tool, which will automatically perform the task. Automated mail programs such as Campaign Monitor, MailChimp, Drip Ecommerce CRM, Active Campaign, SalesForce Marketing Cloud and a tool like Infusionsoft that provides you with both customer relationship management and email marketing, on a unified platform. Once you have built the foundation and laid out many campaigns, the system will automatically take over and run the campaigns, giving you the freedom to focus your attention elsewhere.

Step 3: Having set up your mailing lists, the processes and the tools you will be using to send your emails, the next step would be to create the content. In any content that is written, be it online or hard copy, in order to catch the eye of your target audience, every word, every sentence is important. So creating a short but effective subject line is of paramount importance. Your subject line should entice and beguile the intended recipient to at least click on the email received and to open it. In other words, you would need to tickle their curiosity and interest. However, do not dramatize or use an unrelated subject line. The subject line should be pertinent to the content/matter in the body of your email. At the same time keep it professional. The Subject line should be treated as a header and when using capital or upper case letters, note that prepositions and articles (parts of speech) are always keyed in or written using the lower case.

Step 4: As important as the subject line is, the introductory or opening sentence, forming the first paragraph of your email, is also important. If you are introducing your company and its products and services for the first time, provide information clearly, crisply and precisely. In short, the opening paragraph should provide direction, information and an inkling to the reader what to expect in the body of the email.
Also Read: Deadline for using Gmail on Win XP and Vista

Step 5: The body of your email or the second and third paragraph, again should not be long drawn out sentences or large paragraphs. Limit the paragraphs to providing clear and precise information. If you do have more information that you need to provide, then you could either provide them with a link to your website or entice them to login in for more details or you could attach a Word document or PowerPoint Presentation, a brochure (PDF), Graphical representations, or even a report so as to add essence to your content. Using bullet points or numbered points makes it easier for the reader and also helps to quickly assimilate the information you desire to highlight. Alternatively, you can repurpose any content like your blog content for instance and use it in the body of your email. However, be careful not to copy/paste the content. Repurpose does not mean to copy/paste content, but using the topic, a catchy subject line and by condensing the content appropriately.

Step 6: Always close your email with a call to action, like providing a telephone number where a customer can reach your business and be promptly assisted or direct them to your website for more details or even contact you through any of the other marketing channels you may use to enhance your business prospects.
Read Also: Search Engine Optimization Techniques That Will Increase Your Website Traffic - Part 1

Step 7: Measuring and analyzing the results of your campaigns is also very important. Testing what subject lines, what style and type of content or information yield better results, improve readership and gets s positive responses to your emails, will further assist you in developing great email campaigns that always yield assured results, every time. From here, the next step is to convert those leads into sales and reaping the benefits of your hard work and efforts.

Step 8: Creating customized emails always elicits the best outcome. For instance, when soliciting a business to partner with your business, studying the target business, understanding what are its products and services, where are the gaps that your business could successfully help the target business to enhance its functioning and presenting this information to the appropriate person at the target company, will perk the interest of the recipient, who will inevitably contact you to take your proposal to the next levels. Whether you pursue an email campaign process or a customized email process, the previously mentioned steps are essential to produce an effective email.
Read Also: Search Engine Optimization Techniques That Will Increase Your Website Traffic-Part 2

Now that you have created the email process, have received successful results, generated potential leads and have driven traffic to your website or social media platforms, all of this will amount to nothing if you do not follow up promptly and immediately. You are bound to lose the valuable lead you generated if your follow up action is tardy. Quick follow-ups and prompt responses to warm leads, inevitably ends in a satisfactory sale. Thereafter, customer relationship management plays a very important part of continued business growth in all dimensions.