How to Make Your Start-up Rank on Top of Google?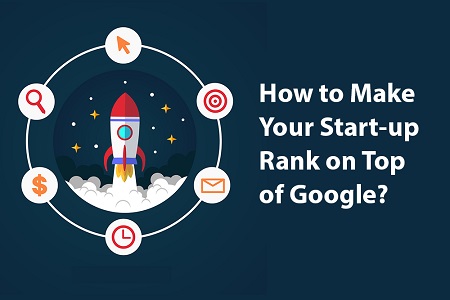 There are three types of start-up owners – the ones who think simply creating a website can make them rank high in Google, the ones who think that the spot is reserved for big and special businesses, and the ones who know the truth!
There is a lot of competition out there. Just look at the number of profile creation sites available and the number of businesses listed in them. You cannot reach the top of the SERPs with just a website but at the same time, it doesn't mean that you can never reach it. Proper strategy planning is important to make it happen and for people who do not know where to start, here is a simple guide.
Google is now dominating the internet and hence ranking on top of its pages is not going to be an easy job. But with the right planning and execution of strategies, there is still a chance. Here are some techniques that you should include in your digital marketing strategy to make your business rank higher on Google.
---
Also Read: Ranking on Top of Google Search Results
---
Relevant Keywords in High-Quality Content Can Do Magic!
The first question you have to ask yourself is "How do I make people visit my website or profile?" This is where content comes in.
High-quality content that is of value to people will make them visit your website/profile. This increases organic traffic which is a golden factor for ranking high in the SERPs.
Create content that people would like to engage in andprobably share. But it is important not to forget optimization. A dashing website with nil-keyword content will still be a failure.
Find high search volume keywords relating to your business and include them in the content. Review the performance of the website and find more keywords for which you can rank.
Features of LBN Business Profile Explained | What you get in a Featured Listing for $499 (one-time)
Your job doesn't stop with creating and publishing high-quality content. You need to make sure that people see the content. Backlinks are vital to make your content reach the target audience.
Avoid getting paid backlinks since Google is known to drop the websites that follow this practice. There are many ways to gain quality backlinks and one among them is, profile creation sites.
When you add your business to high-quality and relevant profile creation sites, you get to create quality backlinks for your website. Choose profile creation sites with high domain authority since backlinks are one of the major ranking factors for Google.
There are other techniques for gaining backlinks like broken link building, guest posting, links from resource pages, and more which you can explore.
---
Also Read: Tips to Help Your Business Survive the Recession
---
Use a Local Search Strategy
For a start-up, it makes more sense to use a location-based strategy rather than a global ranking strategy. About 99% of people search for a local business on Google before associating with it. Here are some tactics that could boost your local search strategy.
Claim your Google Places page.
Use local ranking keywords and geographic keywords in your content.
Find quality local business directories and add your business to them.
Keep an Eye on Your Competitors
Researching your competitors' websites that rank higher can give you valuable insights into what you can do better. You can also randomly research the pages that rank at the top.
Evaluate these websites to find content that is relevant to your keywords. You can use tools like SemRush to accurately collect data. SemRush will show you the keywords that the specific site ranks for. This way you can find the keywords that you have missed and use them in your content.
Advertise and Advertise
Advertising is a way of making your start-up reach your target audience. Google Ads are the most effective choice especially if you use targeted keywords. Choose keywords with high volume and low competition since it is economical and the return is more. Use Google Ad Planner to find the top keywords for Google Ads.
Make maximum use of social media to promote your business. Create great quality content that is also interactive. Be consistent in your practice and you will see results soon.
LocalBizNetwork
Want to see your organic traffic skyrocket to an all-time high? Add your business to LocalBizNetwork! LBN business profile is not your regular business profile since you have the option to include blogs, videos, and more related to your business. Check out the plans here.
Get found on Google with the LBN Business Profile