About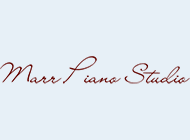 Professional Musician and Master Teacher at Marr's Piano Studios, has been recognized by Cambridge Who's Who for showing dedication, leadership and excellence in all aspects of musical instruction and performance.        
Schedule an Appt.
Services
Advanced Piano Classes
Piano Studio Bay Area
Piano Lessons
Piano Classes
Private Music Teacher
Professional Music Teacher
FAQ
Do you take music classes?
I do not but my son does and he has benefited greatly from them. He has learned to play the piano which gives him great pleasure and satisfaction. His understanding and appreciation of all types of music has increased. His musical involvement gives him great peace and confidence which has resulted in a major improvement in his school grades. He is a much more well rounded, stable and happier person because of his music lessons. Seeing how music has helped him, I am thinking of starting piano lessons too.
How does a beginner learn piano scales?
When my son started playing the piano he went online and found all kinds of advice and information on learning scales. He tried them, one after another, but never quite was able to play as he should and this affected his love for the instrument. At that time, I was told by a neighbor to enroll him in a piano studio where he would have an expert professional music teacher teach him scales and everything else he needed to know. With this, his love for the piano was rekindled and now he is a wonderful pianist.
How can I learn a piano piece quickly and with minimal errors?
In order to learn piano quickly and efficiently, you should concentrate on fundamentals every time. Besides, you should be consistent in your effort. You can also listen to a lot of piano music played by your favourite pianists. Additionally, we also have the urge to practice what we already know many times. Even practice often what you don't know.
https://www.quora.com/Is-piano-one-of-the-hardest-instruments-to-learn
Hours
Monday

9:00 AM - 5:00 PM

Tuesday

9:00 AM - 5:00 PM

Wednesday

9:00 AM - 5:00 PM

Thursday

9:00 AM - 5:00 PM

Friday

9:00 AM - 5:00 PM

Saturday

Closed

Sunday

Closed