About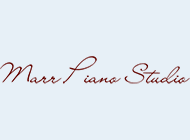 Professional Musician and Master Teacher at Marr's Piano Studios, has been recognized by Cambridge Who's Who for showing dedication, leadership and excellence in all aspects of musical instruction and performance.        
Schedule an Appt.
Services
Advanced Piano Classes
Piano Studio Bay Area
Piano Lessons
Piano Classes
Private Music Teacher
Professional Music Teacher
FAQ
Do you take music classes?
I do not but my son does and he has benefited greatly from them. He has learned to play the piano which gives him great pleasure and satisfaction. His understanding and appreciation of all types of music has increased. His musical involvement gives him great peace and confidence which has resulted in a major improvement in his school grades. He is a much more well rounded, stable and happier person because of his music lessons. Seeing how music has helped him, I am thinking of starting piano lessons too.
How does a beginner learn piano scales?
When my son started playing the piano he went online and found all kinds of advice and information on learning scales. He tried them, one after another, but never quite was able to play as he should and this affected his love for the instrument. At that time, I was told by a neighbor to enroll him in a piano studio where he would have an expert professional music teacher teach him scales and everything else he needed to know. With this, his love for the piano was rekindled and now he is a wonderful pianist.
How can I learn a piano piece quickly and with minimal errors?
In order to learn piano quickly and efficiently, you should concentrate on fundamentals every time. Besides, you should be consistent in your effort. You can also listen to a lot of piano music played by your favourite pianists. Additionally, we also have the urge to practice what we already know many times. Even practice often what you don't know.
https://www.quora.com/Is-piano-one-of-the-hardest-instruments-to-learn
Where can you find piano lessons?
There are music schools and academies all over the country. What is important is to find one that does not just teach playing skills but also gives students the individual attention they need to play to the best of their abilities. Fostering and developing a love of both music as a whole and of the piano, in particular, is another critical aspect of helping students to play to their best. Only a school that provides professional piano lessons will be able to do this.
Where do I find the guidelines of the lessons offered by the Piano Class?
You need to contact a professional piano studio to discuss its teaching policy, curriculum, course structure and teaching methods. Each studio will have its own policy. You should look for a studio that offers professional piano lessons with highly qualified, trained and experienced music teachers who understand that each student is different and that the learning process has to be modified to suit the individuals.
Why can't I play the guitar but play the piano easily?
Every instrument is different and being able to play one does not mean that you will be easily able to learn the complexities of playing another. If you want to learn how to play the piano, whether or not you can already play the guitar, you should contact a professional piano studio to ask about piano lessons. Learning from a professional teacher in a classroom setup will make understanding and playing the piano much easier.
What are the biggest differences between a self-taught pianist and a pianist who had lessons? What are the pros and cons?
As with any other aspect of life or subject of learning, self-teaching is limited by the ability of the teacher -i.e. yourself. If you were an expert, you would not require teaching. Ergo, you are not an expert and this means that your ability and the knowledge you require are not available. Self-teaching may cause you to be able to play the piano to some degree of efficiency, but professional Bay Area piano lessons will cause you to reach a higher level and become a pianist.
What are the different methods of teaching piano?
There are a variety of methods for teaching piano, but the most popular one is the Suzuki Method. This method was developed in Japan and emphasizes ear training and learning by ear. Other methods include the traditional classical method, which focuses on teaching students to read sheet music, and the Howard Richman method, which is a combination of the traditional classical and Suzuki methods.
One of the most important things to consider when choosing a method is whether it will fit with your child's learning style. For example, if your child learns best by listening, then the Suzuki Method would be a good choice. If your child prefers more structure and discipline, then a classical or Howard Richman method might be better.
What are some fast-paced classical piano pieces?
There are many fast-paced classical piano pieces, but some of the most popular include "Flight of the Bumblebee" by Nikolai Rimsky-Korsakov and "The Minute Waltz" by Frederic Chopin. If you're looking for a challenge, try playing both of these pieces back-to-back!
What can I do to determine the condition of my piano?
There are a few things you can do to determine the condition of your piano. First, you can check the strings and hammers for signs of wear and tear. If the strings are fraying or the hammers are beginning to show signs of wear, then your piano may need some repair work.
Another thing you can do is to check the action of the keys. If the keys feel sticky or if they don't return to their original position quickly, then this could be a sign that your piano needs some repair work.
Finally, you can listen to your piano while it is being played. If you notice any strange noises or if the sound seems muted, then this could be another sign that your piano needs repair.
Hours
Monday

9:00 AM - 5:00 PM

Tuesday

9:00 AM - 5:00 PM

Wednesday

9:00 AM - 5:00 PM

Thursday

9:00 AM - 5:00 PM

Friday

9:00 AM - 5:00 PM

Saturday

Closed

Sunday

Closed