Lamberty, Pyle & Associates LLP
About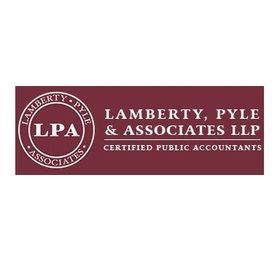 Our firm offers a depth of business expertise and professional skills to a variety of organizations, large and small. We provide a full range of traditional services to our clients including tax planning, financial statement preparation, budgeting, forecasting and data processing. In addition, we offer advice and consultation in related areas such as mergers and acquisitions, tax shelters, financing arrangements and representation before regulatory agencies. We also prepare payroll and sales tax returns, W-2 forms, business property statements, as well as performing other accounting services to supplement the staff and/or capability of the smaller business. We are members of both the American Institute of Certified Public Accountants and the California Society of Certified Public Accountants.		 			 			 			 	
Services
Tax Planning
Financial Statement Preparation
Budgeting
Forecasting and Data Processing
Video
If you are the owner of this page login to add your video now! (Youtube/Vimeo/Daily Motion)
FAQ
What is the role of Tax and accounting Services in the organization?
Money is the energy that enables a business to function. The better the money is controlled, the more efficient the business. Taxation is the inevitable result of earning money and taxes must be paid. However, the less tax paid the more funds available to the organization. Knowing how to legitimately save on save leaves more money with the business. The funds that remain with the company must be utilized most effectively. This required that accounting be thorough and accurate so the management knows where the money is going and for what purpose so that the use of the funds can be optimized. These are the key roles of tax and accounting services.
What is IRS Form W-2?
The IRS W-2 form is used by employers to give details of an employee's wages for a financial year. It will also contain details of all the federal and state taxes and other mandatory deductions made from the salary. This form is usually given to employees not later than the 31st of January so that they have time to use the information contained in the form to complete and submit their tax returns. W-2 forms in Campbell CA are often handled by a CPA firm.
What is tax planning? What are characteristics and types of it?
All individuals, businesses and other entities with a taxable income must pay taxes on earnings. The taxation laws, both federal and state, allow for various ways of saving on the amount of tax to be paid. The use of these tax saving options is known as tax planning. It is a complex subject and for detailed information on it, you should contact an expert on tax planning and related matters.
Hours
Monday

9:00 AM - 5:30 PM

Tuesday

9:00 AM - 5:30 PM

Wednesday

9:00 AM - 5:30 PM

Thursday

9:00 AM - 5:30 PM

Friday

9:00 AM - 5:30 PM

Saturday

Closed

Sunday

Closed
Similar Businesses Near By