Manolayam Senior Citizens Home
About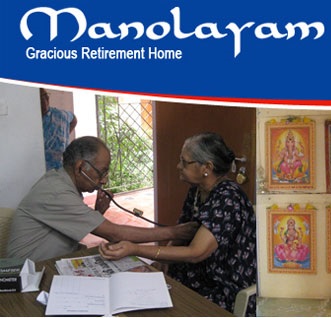 Painted with peace, paneled with prestige and patterned with joie de vivre, the Manolayam Senior Citizen's Home is sculpted with the serenity of life. As a concept woven with tranquility, privacy and the essence of a well-planned Senior Citizen's Home, Manolayam evolves over the calm Poonthandalam village, about 14 kilometers from the Chennai Airport and 10 kilometers from Tambaram, Chennai, Tamil Nadu.

Translating the gift of life into the geography of rejuvenation and relaxation, the land was donated by a philanthropist. With the cogs of Manolayam Senior Citizen's Home running on the well-oiled wheels of efficiency and dedication, Sekkizhar Manolayam Trust, a non-profit organization has channeled its energies into sculpting facets of life for the living.

Planned with stringent attention to detail and functionality, Manolayam Senior Citizen's Home is structured in a total area of about an acre with total built-up area of 10,000 square feet. Executed with expertise and experience, Manolayam has been conceptualized by dedicated architects. Manolayam Senior Citizen's Home as a haven for lonely NRI parents was inaugurated by the Honourable Minister for Local Administration, Shri. M.K. Stalin.

FACILITIES
Offering facilities to create a home away from home, Manolayam Senior Citizen's Home has infused the essence of a professional outlook with focus on "Health is Wealth."
•	1 office room
•	1 recuperation room
•	2 guest rooms for guests of inmates to stay
•	Periodic medical check ups offered free of cost
•	Tie up with local neighbouring hospitals for medical emergencies

A COST-EFFECTIVE CONCEPT

With a fair overview of a creative concept, Manolayam Senior Citizen's Home has structured their pricing module as follows:
Pricing:
•	Interest-free refundable deposit of Rs. 50,000* for a single person
•	Monthly charge of Rs. 10,000/- for a single occupant (single bedroom)
•	Monthly charge of Rs. 17,000/- for a couple (double bedroom)
•	Monthly charge of Rs. 13,000/- for a single occupant (double bedroom)
•	Fee liable to revisions annually

* This deposit is solely collected for the purpose of tiding over medical emergencies, which may arise.
Download Application Form Here - After you fill in the form please send it to us to the address below.
Please read the terms and conditions before applying.
Services
12 double bedrooms
6 single bedrooms
1 common dining hall
1 library room/1 recreation room
Homely Vegetarian food Serene Calm Atmosphere
Video
If you are the owner of this page login to add your video now! (Youtube/Vimeo/Daily Motion)

"Wonderful place. Love the location as well as the excellent food. Very nominal. They also have guest rooms if your daughter or son want to visit you for a few days. Short term options also available. "
31 March 2018
Similar Businesses Near By